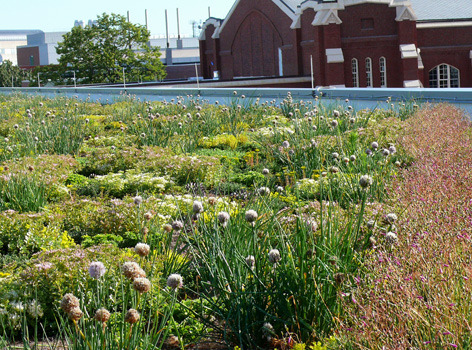 The renovation and west addition to State Gym, completed last winter, has earned Iowa State LEED® Platinum certification, the highest of four award levels. It joins the College of Design's King Pavilion, completed in 2009, as LEED platinum-certified facilities on campus.
The State Gym project is one of just four recreation facilities in the country to achieve LEED's platinum level and one of two in higher education. The University of Arizona, Tucson, has the other.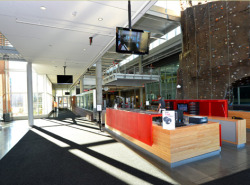 LEED (Leadership in Energy and Environmental Design) is a building rating system developed by the U.S. Green Building Council to measure environmentally sensitive building design, construction, operations and maintenance. First offered in 1998, this voluntary program is now in its fifth iteration, with the standards becoming more stringent as the program evolves.
"Achieving LEED platinum certification on any project is an accomplishment; achieving it on a recreation building – with its very specific demands for space and programming – is a huge accomplishment for Iowa State," said Kerry Dixon-Fox, coordinator for sustainable design and construction in facilities planning and management. "This is an international benchmark that says we're walking the talk."
LEED measures achievements in five categories and awards a point total. The State Gym project scored 53 out of 69 possible points, which included five bonus points in the optional category of design innovation.
Here are some of the achievements that earned the State Gym project its platinum rating.
Light fixture sensors measure the amount of available daylight and adjust accordingly
A section of the roof is planted
87 percent of the original State Gym structure was reused and some interior components found second uses; for example, the wood gym floor is on the side faces of the north check-in desk and in Johnny's at Hilton Coliseum
Toilets have low-consumption flush valves
Captured storm water can be used to flush toilets
Sinks and showers feature low-flow faucet heads
25 percent of building materials come from within 500 miles of Ames
84 percent of the regularly occupied spaces in the building can be lit with daylight
65 percent of the wood used in construction is certified (grown and harvested according to sustainable forestry standards)
Landscaping features native plantings so no irrigation system is needed
More than 1,560 tons of construction waste materials were recycled (86 percent of the total volume)
Interior paints, adhesives and flooring choices are low-toxicity
An automated thermostat rolls back building temperature at night and other unoccupied periods
"We're very proud, on numerous levels, of our facility," said recreation services director Mike Giles. "We have well-planned spaces that allow us to offer great programs. But with sustainability taking on greater importance across the country, we're also very proud to show that we're providing a positive impact on that."
State Gym renovation and west addition
The Scorecard: LEED Platinum certification
| | | |
| --- | --- | --- |
| Category | Received | Possible |
| Sustainable site | 9 | 14 |
| Water efficiency | 5 | 5 |
| Building energy performance | 11 | 17 |
| Sustainable building materials | 10 | 13 |
| Indoor environmental quality | 13 | 15 |
| Bonus credit: Innovation in design | 5 | 5 |
| Total | 53 | 69 |
Other Iowa State construction projects to receive LEED certification include the College of Design King Pavilion (platinum), Hach Hall (gold), Biorenewables Laboratory (gold) and the Morrill Hall renovation (silver). The university will seek LEED certification for Troxel Hall, the football program's training facility, Vet Med small animal hospital, phase 2 of the biorenewables complex and the Curtiss Hall renovation.
Since 2008, Iowa State has had the goal of achieving at least LEED gold certification on all its building projects.