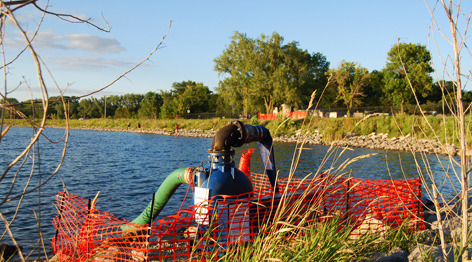 Ada Hayden Heritage Park on Ames' north side is a favorite community recreation spot. Its tranquil lake is also part of the Ames aquifer system that provides the city's water supply.
The 1.2 billion gallon lake provides an emergency water source during a drought, as evidenced by the pumping that started July 27. (After last weekend's rains, the pump was temporarily turned off.)
John Dunn, the city's water and pollution control director, says that although the lake was designed to serve as a secondary water source, it's rare to pump water from the lake into the South Skunk River channel to replenish the drinking water aquifer. This marks the first time the city has done so since assuming ownership of Ada Hayden lake a decade ago, although pumping has historically occurred in other unseasonably dry years, including 1977 and 1988.
The Ames Water Plant's move to begin pumping is the first step in its drought management plan. The City of Ames hasn't implemented mandatory water restrictions at this time, but is monitoring the situation and encourages all residents to conserve.
Iowa State's conservation role
The university has both permanent and temporary water conservation measures in place, according to Dave Miller, associate vice president for facilities planning and management.
Long-term conservation efforts include the installation of rain barrels and hardy, low-maintenance plantings at Reiman Gardens; a rainwater harvest system to provide water for toilet flushing at the Biorenewables Research Laboratory; and Veenker Memorial Golf Course's conversion to bent grass turf, which has reduced water and chemical use by 30 percent. ISU Dining for the past two years has reduced wash and disposal water waste through trayless dining and composting food waste.
Other conservation measures implemented this summer:
Transportation Services has suspended routine car washing until conditions improve. University vehicles will be washed only if they are extremely dirty.
CyRide has taken the same approach, said Rich Leners, assistant transit director, fleet and facilities. Rain is typically the reason buses need to be washed, Leners said. Dry weather makes for cleaner buses. CyRide has washed the fleet only four times this summer.
Fountains are off at Reiman Gardens, and turf areas are being watered every 10 days.
New tree and shrub planting on campus is being deferred to 2013. Existing young trees and shrubs are being watered with well water once a week.
Irrigation systems watering The Knoll, Campanile, Parks Library and Enrollment Services Center lawns, as well as the band practice field, are being used three days per week.
Pond water from Coldwater Golf Links in Ames is being used on Cyclone football practice fields.
The Southwest Athletic Complex irrigation has been turned off.
Veenker Memorial Golf Course is irrigating with well water. The course's "gradual dry down" allows for tees and greens to be watered daily at 70 percent of the water loss for the previous day; and fairways to be watered daily at 50 percent of the water loss for the previous day. Rough areas are not being watered.
ISU's Department of Residence will display posters and signs in residence halls to educate students about water conservation. The issue also will be discussed at house meetings and communicated via social media and dining center table tents.
What students and others can do to save water
It will be a couple of weeks before many Iowa State students return for the fall semester, but even the smallest efforts to use water wisely can help, said Merry Rankin, ISU director of sustainability. Iowa State uses 750,000 to 1 million gallons of the city's daily water supply; the Ames Water Plant capacity is 11.5 million gallons.
Taking shorter showers, running only a full dishwasher or clothes washer, and turning off the faucet while brushing teeth and shaving are steps anyone can take to save water, Rankin said.
"Every individual has an opportunity to assist in this community challenge," she said.
ISU Extension and Outreach has compiled an extensive list of home water conservation tips.
"Another way in which everyone on campus can assist is to report leaky faucets or toilets so that they can be repaired. It's better to report something twice than not have it reported at all," Rankin said. "In addition, all offices, labs and departments should consider how they are using water during the work day, and look for ways to reduce consumption."