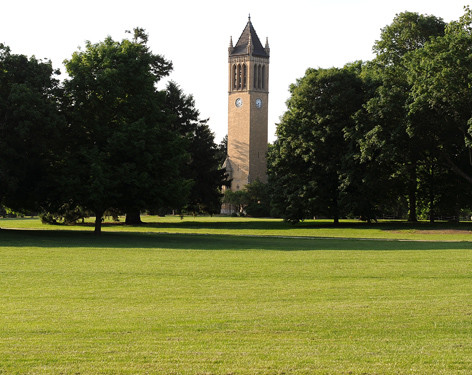 The music department's summer carillon concert series returns to campus this year in its biennial rotation. Guest carillonneurs will visit campus, once a month, from May through August. Concert-goers will hear everything from Bach to My Fair Lady tunes to the children's Spanish folk song Señor Don Gato. All concerts begin at 7 p.m. on a Tuesday evening and are free.
Here are this summer's carillonneurs and their home carillons:
May 29: Elizabeth Graves-Vitu, Cathedral of St. John the Baptist, Perpignan, southeast France
June 26: Robert Grogen, National Shrine of the Immaculate Conception, Washington, D.C.
July 24: Sue Bergren, Millennium Carillon, Naperville, Ill.
August 28: Julianne Vanden Wyngaard, Grand Valley State University, Michigan (carillons on both the Allendale and Grand Rapids campuses)
Information about each concert program is online.
Concerts will last approximately 45 minutes, said ISU carillonneur and Cownie Professor of Music Tin-Shi Tam. Following the concerts, the campanile will be open for tours and guests may meet the featured performer.
"For audiences, summer is the best time to have outdoor concerts," Tam said. "People can relax or enjoy other activities while they listen to the music at the end of a day."
She invites guests to bring their own lawn chairs or blankets to central campus. Nearly anywhere on the lawn north or south of the campanile (and away from traffic) is a good spot to listen to a carillon concert, she said.
"Open space is crucial to a good sound," Tam said. "The big lawn surrounding our campanile is ideal."
Fifth summer of concerts
The 2012 concert series is the fifth organized by Tam. The first were held in 2001 and 2003, and in 2008, the department announced that the series would be held in even-numbered years.
In the summer tradition of carillonneurs hitting the road for guest performances, Tam will travel to Wisconsin and Germany later this summer to perform.