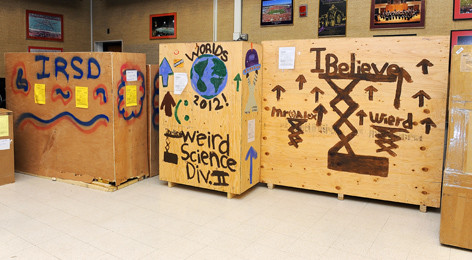 Nearly 800 teams from around the world in four age divisions — totaling 15,000 people with coaches and chaperones — are on campus through the weekend for the world finals of Odyssey of the Mind, a problem-solving competition that emphasizes creativity and teamwork.
For staff members like Central Stores director Norm Hill, that means lots and lots of mail — BIG mail.
By May 14, more than 700 large boxes, filled with props, costumes and competition supplies, were received on campus. The largest, Hill said, was a moving container. One wood crate measured 8 feet by 8 feet by 4 feet. In another instance, 14 schools filled a 53-foot semi trailer and had it delivered to campus, where the truck simply unhooked from it.
Before teams arrived, Hill's crew delivered the crates to competition buildings, working 17-hour days Monday and Tuesday. They also are delivering oversize crates to competition sites once team members are present to meet them. Hill logged 115 calls to his cell phone Wednesday to accommodate props requests.
"My staff has done a wonderful job," Hill said. "I'd also like to thank the rest of the university community for putting up with perhaps slower deliveries from us during this time."
Despite the long days, Hill speaks positively of the experience.
"Events like this are so good for our university. I've heard nothing but positives about our facilities, grounds and helpfulness of university personnel from OM coaches and parents," he said.
The Odyssey of the Mind opening ceremony is Wednesday evening and the closing ceremony is Saturday evening, both at Hilton. Competitions run all day Thursday, Friday and Saturday; competition sites include the auditoriums in Hoover, Kildee, LeBaron and Music halls and the College of Design; the Forker gymnasiums; Pearson classrooms and the Memorial Union ballrooms. The main floor of the Lied center is reserved through Saturday for a creativity festival and a NASA e-theatre event will be repeated several times a day in the Howe auditorium.