Miles Lackey, director of the office of federal affairs at The University of North Carolina, Chapel Hill, will join the president's office April 16, filling the newly defined position of associate vice president.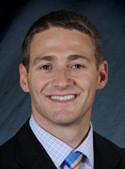 "Miles Lackey brings expertise and experience in higher education, public administration, government relations, budget and finance," Leath said. "At Iowa State, he will help to ensure successful completion of strategic and other important initiatives. In addition, he will coordinate many of the day-to-day functions of the president's office."
Lackey said he looks forward to joining the university community.
"This is an innovative university that is committed to serving the people of Iowa and is making its mark across the world," he said. "It really is a special place and I am excited to be part of it."
In previous posts, Lackey was director of federal relations for the 16-campus University of North Carolina System and legislative aide to former U.S. Sen. Elizabeth Dole. In addition, he has private sector business experience.
He has a bachelor's degree in political science (2002, Lenoir-Rhyne College, Hickory, N.C.), a master's degree in public administration (2006, George Mason University, Fairfax, Va.) and an MBA (2010, Kenan-Flagler School of Business, University of North Carolina, Chapel Hill).