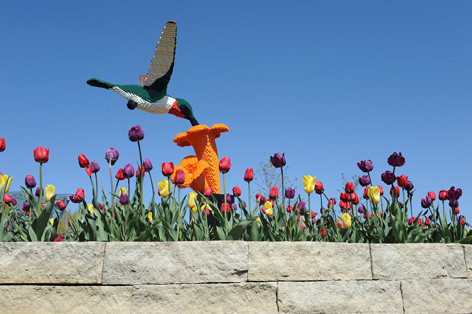 Beginning April 14, visitors to Reiman Gardens can see nearly 500,000 LEGO bricks transformed into 27 sculptures in its "Nature Connects" exhibition. The show, which lasts through Oct. 28, is the first of its kind in the nation at a public garden.
The exhibition is part of the gardens' 2012 theme, Some Assembly Required. The LEGO sculptures, inspired by gardens and nature, range in size from 6 inches to nearly 8 feet. The largest sculpture, a mother bison, is made from 45,143 LEGO bricks. Among the other sculptures are a rose, a dragonfly and a lawn mower.
About the artist
The sculptor, Sean Kenney, New York, is one of only 11 LEGO Certified Builders in the world. He will discuss his 30-year career at a free public lecture on Friday, April 13 (noon, Lightfoot Forum, College of Design).
Additional meet-and-greet opportunities with Kenney are Saturday, April 14 (10 a.m.-1 p.m.), and Sunday, April 15 (10 a.m.-2 p.m.), at Reiman Gardens. He also will hold a book signing on Saturday (1-2 p.m.). His books will be available in the gardens' gift shop.
Reiman Gardens members also are invited to a preview party with Kenney on Friday, April 13 (6-8:30 p.m., Reiman Gardens). Refreshments will be served. RSVP by calling 4-2710.
Reiman Gardens is open daily from 9 a.m. to 4:30 p.m. Admission is $8 ($4 for youth; free for members, ISU students, and children 3 and under).