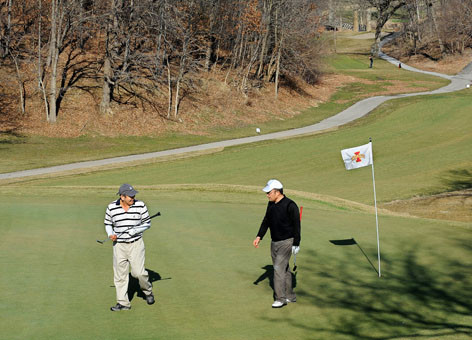 Veenker Memorial Golf Course opened for the season on Tuesday, March 13. ISU lecturer Yong Chin "Master" Pak (left) and visiting scholar Kwonil Seo (Soonchun University, Korea), pictured here on the No. 2 green, joined an estimated 75 to 100 golfers taking advantage of the unseasonably warm weather on opening day.
Tess Balsley, clubhouse manager at Veenker, said the course opening dates commonly fall sometime around spring break. This year may seem early, but she said the course opened on Feb. 29 in 2004.
"We just go by the weather," Balsley said. "When we see the ground temperature rise above freezing and the turf has a chance to absorb the moisture so that it is firm, we're good to go."
Green fees are discounted this spring, with rates of $20 (18 holes) and $13 (9 holes) on weekdays, or $25 and $16.50 on weekends and holidays. Season passes, monthly passes and 10-round cards also are available. Cart fees are extra. Call 4-6727 to reserve a tee time. A schedule of events, including open tournaments, is online. Photo by Bob Elbert.