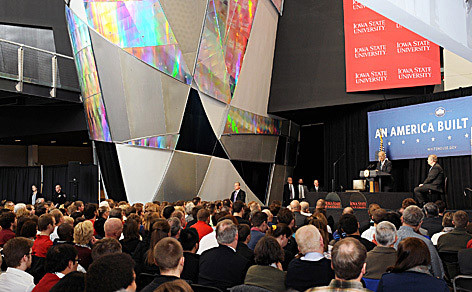 U.S. Vice President Joe Biden's visit to campus March 1 included a public talk on innovation and domestic job creation, a tour of the aerospace engineering department's "Make to Innovate" undergraduate laboratory complex in Howe Hall, and a private event held at the ISU alumni center. Engineering students Katie Goebel, Jared Juel, Shannon Krogmeier and Thomas Naert summarized their lab work for the vice president.
During his talk to an estimated crowd of 650 in the Howe Hall atrium, Biden praised the projects and the necessary innovation they represent.
"You and your colleagues across the country are going to be part of putting tens of millions of people in America back to work, in entire new industries, making products that you perfected and supporting industries we never imagined," he said to student members of the audience.
Biden also praised American education, saying students are allowed, even encouraged, to "challenge orthodoxy." Noting that 30 of the world's top 50 universities are in the United States, he said this is, in part, because American universities encourage "cross-pollination across disciplines," which leads to innovation.