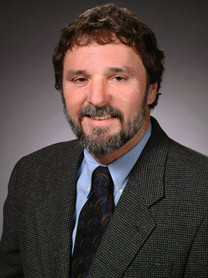 The search for the next dean in the College of Business will be temporarily halted until Iowa State's next provost has been selected. The decision was a joint one announced March 6 by president Steven Leath and executive vice president and provost Elizabeth Hoffman.
Michael Crum, associate dean of graduate programs in the college and inaugural holder of the Ruan Chair in Supply Chain Management, will serve as interim dean and holder of the Raisbeck Endowed Dean position, effective July 1. Labh Hira, dean of the College of Business since 2001, announced in October that he would step down on June 30. Later in October, Hoffman launched the search to find his successor.
"I am so pleased that a faculty member with such a distinguished record in teaching, research and administration has agreed to lead the College of Business in the interim," Hoffman said. "We are grateful to Mike for his willingness to take on this responsibility.
"The president and I are in agreement that this is the appropriate order for these searches. Business dean candidates will want to know the provost with whom they would work," she added.
Crum will serve as interim dean for up to two years. He will continue to hold the Ruan chair during his service as dean.
Last month, Hoffman announced her plans to leave the provost's post no later than the end of the calendar year. College of Agriculture and Life Sciences dean Wendy Wintersteen is leading the search committee tasked with finding her successeor.
The new provost will make decisions about resuming the Business dean search. It is anticipated that the position would be readvertised.