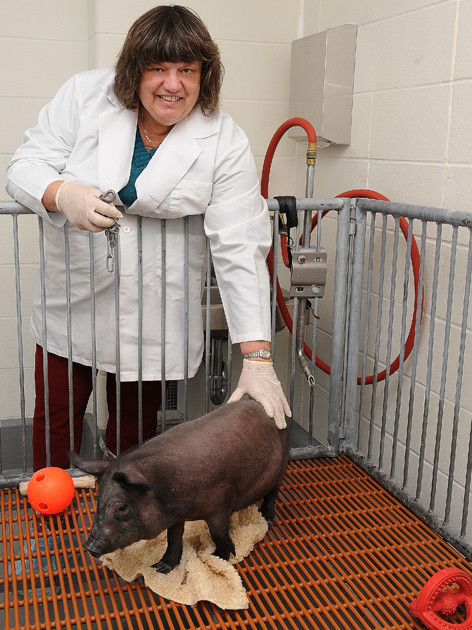 Mary Sauer interacts with horses, beef cows, dairy cows, pigs, mini pigs, goats, mice, rats, opossums, guinea pigs, rabbits, zebra fish – and the faculty and researchers who teach and conduct research with them. In addition to the obvious ones – Veterinary Medicine, Agriculture and Life Sciences -- she works with the colleges of Human Sciences, Liberal Arts and Sciences and even Engineering.
The basics
Name: Mary Sauer
Position: ISU Attending Veterinarian, Office of the Vice President for Research and Economic Development
Years at ISU: 2
We have lots of veterinarians on campus, but you have "attending" in your title. What does it mean?
It means the person where the buck stops. The federal government requires that an institution that uses animals for teaching and research has an Attending Veterinarian. Besides a VMD [Veterinary Medical Doctor], the background most critical to me is board certification in lab animal medicine.
My first responsibility is to be an advocate for the animals, someone who's helping researchers find the best ways, the most humane ways, to use animals in research. Secondly, I work with faculty from different colleges on the Institutional Animal Care and Use Committee [IACUC] to review all of the research and teaching that's being done with animals before it begins, and again, giving suggestions for improvement.
What might a typical day look like for you?
Every day is different. I do rounds, maybe go to one specific location and look at all the animals there. I meet with investigators to talk about new projects. I'm constantly reading protocols and commenting on them because a designated group of the IACUC meets every Thursday to review protocols. I attend each week. Sometimes, you have to read a few articles on the research subject to understand it correctly. I ask hard questions, not to be difficult, just to be sure that we are doing the absolute best job that we can do. Training researchers and Ph.D.s in animal procedures also is my job.
I've given lectures for veterinary students and animal science students, which I really enjoy. I'm working with [ISU Laboratory Animal Resources director] Ron Morgan to develop a residency program in lab animal medicine for the College of Veterinary Medicine. One way to get board certified in lab animal medicine is to do a 2- or 3-year residency after your DVM. We've never had that. In July 2013, we hope to have our first residency opening.
Do you sense some "Oh no!" when you show up unannounced?
There's a little of that, and it's OK. I don't take it personally. I believe I've done a pretty good job in diffusing as much of that as I can. For me, it's 'I'm here to see what's going on, I'm here to educate.' It's not 'Let's see how many things we can find wrong,' but 'Let's see everything that you're doing right and if there are some things that need improvement, let's work on them.'
And I think that I've had really good buy-in from faculty across campus on that. I'm about making it the best I can for the welfare of the animals and for the quality of the research. Healthy animals equal good results.
AAALAC: That's a whopper of an acronym. Why is it important to the university?
Seeking accreditation with the Association for the Assessment and Accreditation of Laboratory Animal Care is voluntary. It's important to people who care about animals – including us -- and it's important to funders. If you're following the [federal] Animal Welfare Act, you're kind of at the basic level, and if you're AAALAC accredited, you're voluntarily raising the bar. It says we're doing excellent work in our animal care and use. All the universities that are getting the largest number of grants are AAALAC accredited.
Last fall, we received accreditation for the Veterinary Medicine and Human Sciences colleges. The goal is to eventually achieve this for all animal research on campus. My assignment when I came two years ago was to get this done.
If you closed your eyes and walked into a lab or a barn, would your nose tell you what kind of animal is in there?
It could, yes. One of our goals is to have such good ventilation that you can't tell, but if the ventilation wasn't superb, yes, I could pick most of them out.