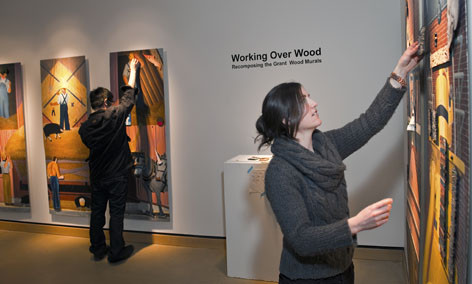 University Museums invites the public to a series of studio open houses with artist and ISU art and design lecturer Jennifer Drinkwater. Her interactive project, "Working Over Wood: Recomposing the Grant Wood Murals," is housed in the Christian Petersen Art Museum, 0003 Morrill Hall.
Check in and win
Visitors using the foursquare app on their mobile devices can check in during the studio open house and receive a free Grant Wood poster.
Drinkwater is encouraging visitors to help recompose the nine-panel 1934 Grant Wood mural, "When Tillage Begins, Other Arts Follow." She recreated the mural on steel panels (2.5-by-6-feet each), allowing participants to position painted magnetic pieces to reflect their own interpretations. Drinkwater also is soliciting ideas and suggestions for more magnetic additions to the project.
"This is artwork we want people to touch and interact with," said Allison Sheridan, University Museums collections manager and communication coordinator. "Normally, museums would cringe at saying 'please touch the art.'"
The display is open daily during museum hours. Drinkwater's open studio hours take place 11 a.m. to 4 p.m. on Fridays through April, except March 16. Photo by Bob Elbert.