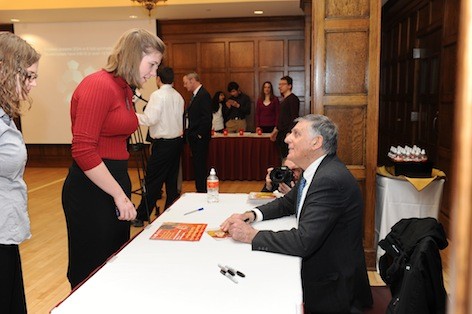 Iowa State students got a rare opportunity this week -- a chance to meet the university's first Nobel laureate, Dan Shechtman, a research scientist for the U.S. Department of Energy's Ames Laboratory and professor of materials science and engineering. In October, Shechtman was named the recipient of the 2011 Nobel Prize in chemistry for the discovery of quasicrystals. For about eight months each year, Shechtman also serves as the Philip Tobias Professor of Materials Science at the Technion -- Israel Institute of Technology.
Highlights
The College of Engineering produced a video recap of Shechtman's press conference and student reception.
The College of Engineering organized a student reception in Shechtman's honor on Feb. 14. Students received an "autograph" card, which contains facts and stats about Shechtman; a lapel pin in the shape of a quasicrystal (similar to a pentagon); and temporary ISU tattoos. Students also perused displays about materials science, sponsored by undergraduate and graduate student groups.
Shechtman will share the story of his 1982 discovery of quasicrystals during a public lecture Feb. 20 (7 p.m., MU Great Hall). The campus community is invited. Photo by Bob Elbert.