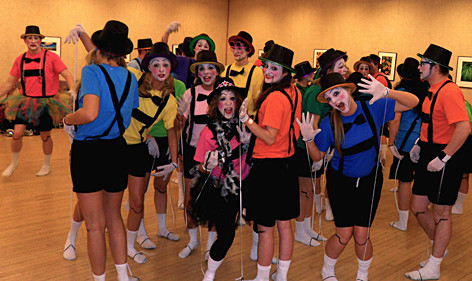 Varieties, Iowa State's annual ramped-up version of a student talent show, opens this weekend with semifinal performances Feb. 3 and 4 (6 and 9 p.m. both nights, Memorial Union Great Hall). Each show will feature student-produced mini musicals, alternating with shorter "vignette" acts that showcase student talents such as singing, dancing, stand-up comedy or juggling.
This weekend's performances are judged and three each – musical and vignette – will move on to the finals, or Sweepstakes performances in two weeks. Sweepstakes shows begin at 6 and 9 p.m. Feb. 24 and 8 p.m. Feb. 25, also in the MU Great Hall. Awards will be presented at the conclusion of the final show.
"Music in Motion" is the 81st production of Varieties, sponsored by the Student Union Board. The seven student-produced mini-musicals are: Medieval Mayhem, Little League Legends, Not Another Teen Musical, A Picture's Worth 1,000 Words, Caught in a Pickle, Not So New to the Zoo, and Tweet: The Musical. Each is 15-20 minutes long.
Tickets may be purchased in advance at the Maintenance Shop box office (11 a.m.-5 p.m. Monday through Friday). Semifinals tickets are $10 (students $8); Sweepstakes tickets are $12 (students $10). Tickets also can be purchased over the phone at 515-294-8349; a $1 fee will be added. There also is a $1 day-of-show increase for all ticket purchases.