Dan Grooms, Stephen G. Juelsgaard Dean of the College of Veterinary Medicine, has been appointed to a second five-year term, beginning Oct. 1.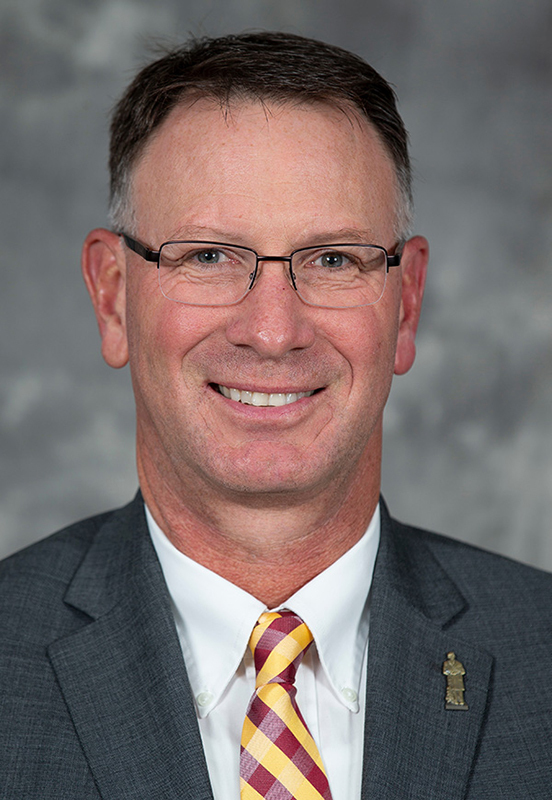 Grooms, who began his tenure as dean in 2018, has significantly grown the college's revenue during his first term, including a 50% increase in research funding, and support to Iowans through the Lloyd Veterinary Medical Center and Veterinary Diagnostic Laboratory (VDL). He also has doubled private funding for student scholarships, increased enrollment in the Doctor of Veterinary Medicine professional program, secured funding for a new VDL scheduled to open later this year, and helped the college, university and state navigate the pandemic.
"Under Dean Grooms' leadership, the College of Veterinary Medicine continues to excel as one of the best in the world," said President Wendy Wintersteen. "Dan is doing an outstanding job working with students, faculty, staff, alumni and stakeholders to grow the college, support livestock and poultry producers, and serve the state's veterinary needs."
"It's an incredible honor to continue serving our veterinary students, our faculty and staff, and our alumni and stakeholders," Grooms said. "Even more than that, every Iowan benefits from the College of Veterinary Medicine, and we are proud to serve the state and its animal and public health needs."
Senior vice president and provost Jonathan Wickert expressed thanks to the college's Committee to Review the Dean for managing the comprehensive review process. Committee members included:
Derald Holtkamp, chair, veterinary diagnostic and production animal medicine
Claire Andreasen, veterinary pathology
Ronald Griffith, veterinary microbiology and preventive medicine
Douglas Jones, veterinary pathology
Lisa Kalamaja, Lloyd Veterinary Medical Center
Kathryn Kuehl, veterinary medicine administration
Suzanne Millman, veterinary diagnostic and production animal medicine
Brenda Mulherin, veterinary clinical services
William Robertson, biomedical sciences
Eric Rowe, biomedical sciences
Wickert also noted his appreciation to students, faculty and staff in the college who participated in the review process and provided insightful and helpful feedback.
Grooms, an expert in bovine infectious diseases, earned a bachelor's degree in animal science from Cornell University and two degrees from The Ohio State University -- a veterinary medicine degree and a Ph.D. in veterinary preventive medicine. He also holds board certification from the American College of Veterinary Microbiologists, with specialty in veterinary virology; is a former president of the American Association of Bovine Practitioners; and has served on the U.S. Secretary of Agriculture's Committee on Animal Health.