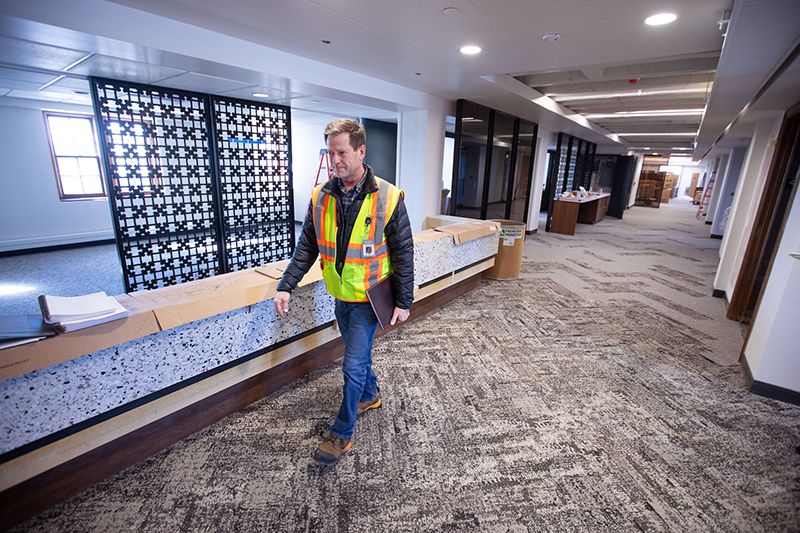 A 15-month, $10 million renovation of the top three floors at the Memorial Union is in the homestretch this spring. The three levels are in varying stages of completion, but finishes such as lighting and flooring are going in now, to be followed by furniture and information technology installations.
MU associate director for operations Brad Hill said tenants -- student affairs service offices -- will start moving in by early May. Scheduled for move-in are the staffs of:
Floor 6: ISCORE/NCORE, Lectures Program, Student Legal Services
Floor 5: Veterans Center, tenant to be determined
Floor 4: International Students and Scholars, The Center (LGBTQIA+ Student Success)
"We are excited the project is nearing completion and that we'll be able to open these dynamic new spaces to students soon," Hill said.
One of the project goals was to give visibility to units that support students and make it easier for students to find them with a prominent location in the student union. It also eliminates several million dollars of deferred maintenance, replacing the heating, cooling, plumbing, electrical, communications and security systems for floors four, five and six. Windows and the building's two elevators are about the only features that weren't replaced.
Numerous additions to the Memorial Union over its 90-plus years created expansive lower levels, but its top floors are noticeably narrower -- about 15 yards wide and 45 yards long on floors five and six, 20 yards longer on the fourth floor. In the place of dark corridors and small rooms that defined their years as a dormitory and hotel, the renovated space features open floor plans that share the natural daylight, centralize shared work spaces and student collaboration areas, and distribute staff offices around the perimeter. A shared reception area and restrooms also are centrally located on each floor.
Decorative metal panels in the renovated spaces play off the filigree grillwork found on lower floors of the Memorial Union, including over significant interior doorways and stairwell entrances and as radiator cabinet faces. In addition, staff in the agricultural and biosystems engineering department's waterjet cutting lab in the Student Innovation Center are collaborating with the MU facilities team to prepare custom corner grills that will cover exposed steam pipes in 42 locations on the three floors.