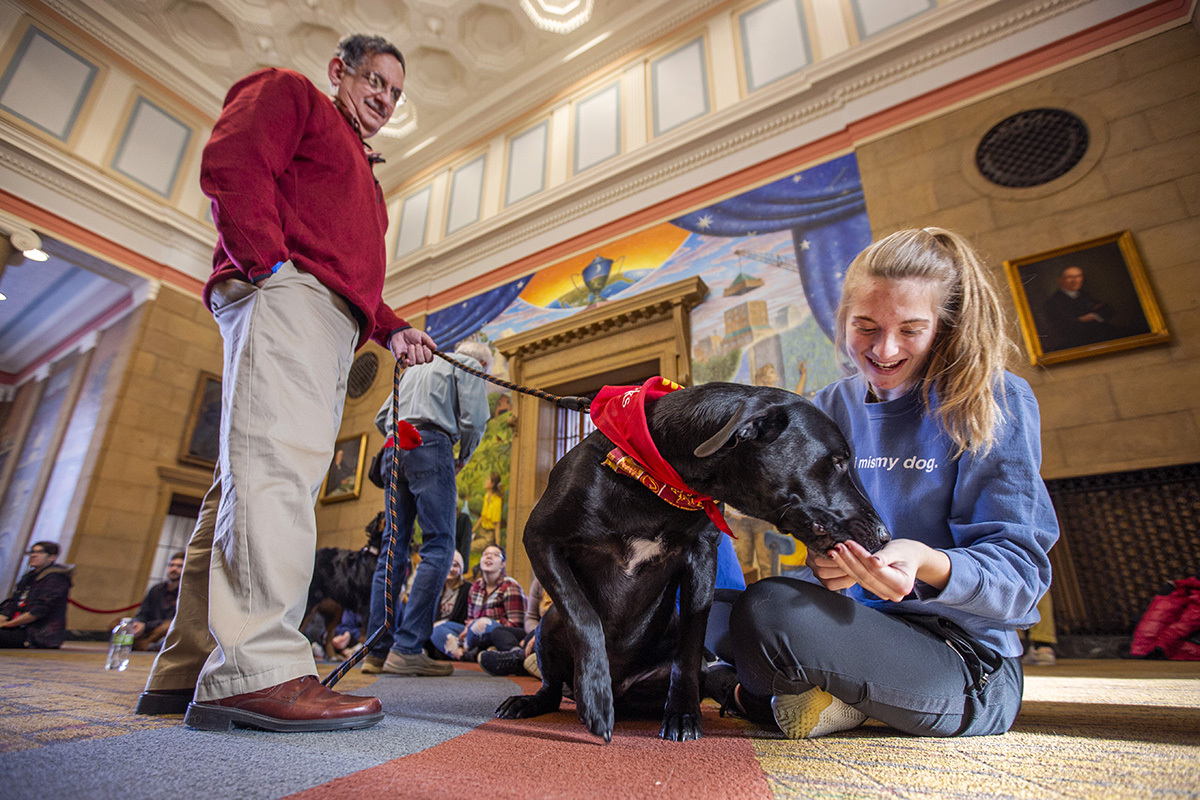 When Jake bounded up the steps into Parks Library this week you could almost see the smile on his face. He was going to see friends who helped him through a difficult time and to return a favor.
The 3-year-old black Labrador mix is one of 35 dogs brought to the library this week by 29 owners to take part in Barks at Parks. The program runs from noon to 4 p.m. each day of study week to give students a break from final exam prep by petting and cuddling dogs.
"We adopted Jake from the Story County Animal Shelter, and they told us he had been there for three months after being found as a stray," Greenlee School professor Jay Newell said. "Student volunteers from ISU would come over to play with him and take him for car rides. When we brought the dog back into the library and he looked at the students, he just thought he was back among his people."
At least six owners who brought dogs this week are faculty or staff.
"I work with students every day, but it is usually on a very narrow range of things," Newell said. "This is an opportunity to interact with some of the same people on a different, completely pleasant, unloaded subject."
Providing help
Library organizers estimate that several hundred students take part in Barks at Parks, with some coming several times during the week. Students sit in a circle on the floor while multiple leashed dogs are led around by their owners to interact in a variety of ways.
"It is very well organized," Newell said. "The dogs can go up to students and sit with them, play, cuddle or whatever.
"I think the students like sitting together, and it is a really nice moment of community because you have the students, some professors with dogs, a lot of townspeople and it is a really pleasant moment."
Newell believes this allows students to connect with a pet, something they may miss with their own hours away at home.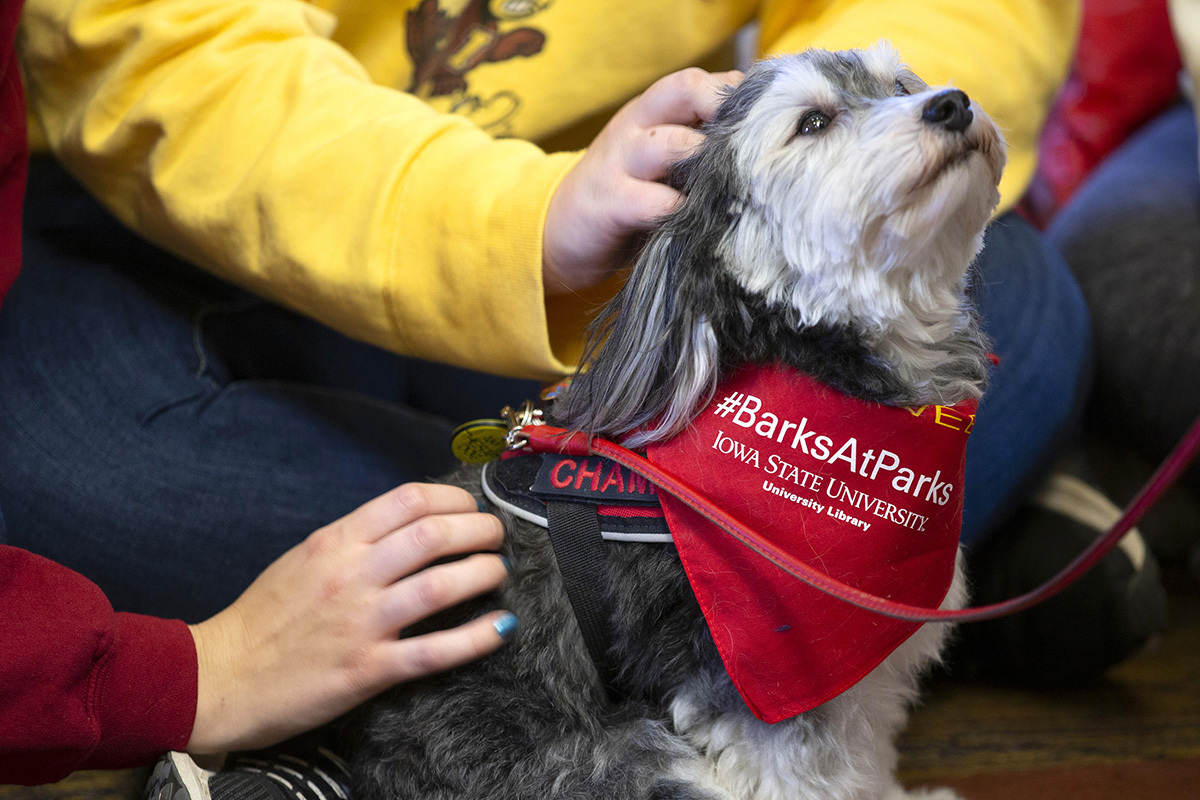 Beth Weiser spent 38 years at Iowa State and now works at Mary Greenley Medical Center. She has brought her 10-year-old therapy Bichon Frise, Tucker, to the event for five years.
"Many times students just want to hold [Tucker], and you will see someone cuddling him to death and they will say, 'This is exactly what I needed' with tears in their eyes," she said.
Kinsey Phillips, a mental health advocate with ISU Police, spends her days providing support and resources for students, faculty and staff. She was at Barks at Parks with her 8-year-old golden retriever, Zosia, again this year.
"I never got to attend it when I was a student here, but I thought it was a great idea," Phillips said. "Being able to sit and relax with a dog has been beneficial in my own life, so I think that is really neat to witness with students."
The dogs are one of several stress-reducing activities planned throughout study week. In addition to Barks at Parks, the library offers a massage chair three days this week, a mindfulness room, coloring books, puzzles and games.
Student wellness partners with the library for its relaxation programs this week.
"For mental health, petting and visiting with dogs helps release a relaxation response, provides comfort and can reduce anxiety and loneliness," said Brian Vanderheyden, student wellness assistant director.
Accomplished pooches
The program began in spring 2014 and got its Barks at Parks title through a naming contest in 2015. In order to participate, dogs have to be Canine Good Citizen (CGC) certified through the American Kennel Club or have their Therapy Dogs International (TDI) certification. CGC is a 10-skill training program that focuses on good manners and obedience. TDI is a more comprehensive process to prepare dogs to visit nursing homes, hospitals and other institutions.
Tucker, who was named the Iowa Veterinary Medical Association's Professional Dog of the Year in 2014 and is in the Iowa Animal Hall of Fame, has made a significant impact with a wide range of people.
"We were visiting a stroke patient that could only mimic whatever you said to her, and after 15 minutes of someone saying, 'Isn't he a beautiful dog?' she responded, 'He is gorgeous,'" Weiser said. "Her husband sat down and cried."
The Cyclone Country Kennel Club of Ames, the Animal Rescue League of Iowa's Therapets program and TDI all have helped provide dogs for Barks at Parks over the years.
Lasting impact
Barks at Parks happens twice a year, but the impact on students can last far longer than the five or 10 minute interactions.
"I brought Tucker home after one event, and I took him for a walk when a car came driving by us yelling, 'Tucker, Tucker!'" Weiser said. "It was kids who were at Barks at Parks who pulled over and ended up spending another half hour with him in our backyard."