Interim university registrar Jennifer Suchan has been named to the role on a permanent basis, effective Dec. 16.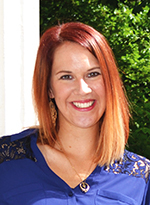 Suchan has extensive experience in enrollment management and student success leadership, including her role as senior associate registrar at Iowa State and service at the University of Northern Iowa (UNI) 2010-15.
"Jennifer has demonstrated outstanding leadership during two appointments as interim registrar," said associate vice president for enrollment management Laura Doering. "She is a passionate advocate for student success, and I look forward to her role on my leadership team."
Suchan will continue to provide strategic planning and direction for the office, lead the university's commencement ceremonies and maintain the confidentiality of student records. She also will help lead the implementation of Workday Student in the coming years.
"It's a great honor to serve Iowa State's students, as well as my team in the office of the registrar," Suchan said. "I look forward to working with colleagues across campus on initiatives to improve retention and graduation rates, reduce achievement gaps and use data to enhance academic success."
A native of Fort Dodge, Suchan holds a bachelor's degree in psychology and master's degree in postsecondary education-student affairs from UNI and a Ph.D. in higher education administration from Iowa State. She joined the university in 2015 after serving as assistant registrar and coordinator of military and veteran student services at UNI.