Iowa State's fall 2017 enrollment is 36,321, the second-largest in school history.
Overall enrollment at Iowa State is down about one percent from last year's record of 36,660 students. The new student body number reflects a "leveling off" university leaders have predicted over the past year, following a decade of growth and eight consecutive years of record enrollment at Iowa State.
"This year's enrollment is more manageable, but it remains a very substantial number," interim President Benjamin Allen said. "Additional resources are needed to maintain our top-ranked programs and the high educational quality for which Iowa State is known. We continue to operate with significantly less state support, and significantly more students, than a decade ago."
Where they come from
Iowa State's student body represents all 99 Iowa counties, all 50 U.S. states and 127 countries. International enrollment is 4,115, down just 16 students from 2016's record 4,131.
This fall, 19,843 Iowans are attending Iowa State. They equal nearly 55 percent of the overall student body and 60 percent (or 18,246) of the 30,406 undergraduates. Iowa State continues to enroll more Iowans than any other university in the world.
Nearly 95 percent of Iowa State graduates are either employed or pursuing further education within six months of graduation.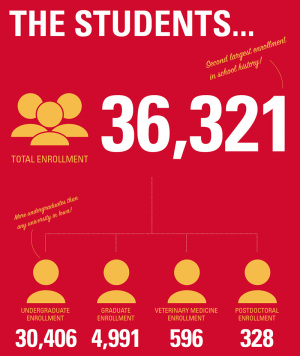 About the Class of 2021
Iowa State's new freshman class of 5,944 students includes 3,174 Iowans.
They have an average ACT score of greater than 25.
More than a quarter of Iowa State's incoming freshmen ranked in the top 10 percent of their high school graduating classes.
Their average high school GPA was 3.61.
"This is an impressive class, reflecting Iowa State's strong reputation in Iowa, across the country and around the world," Allen said. "It's a testament to our high-demand programs and the overall student experience we provide."
Record diversity
Total U.S. multicultural and international enrollment at Iowa State is 8,789, or 24.2 percent of the student body -- a new record exceeding last year's number of 8,748.
U.S. multicultural enrollment is a record 4,674, up 57 from last year's total of 4,617. Undergraduate U.S. multicultural enrollment is also a record – 4,171, up 78 from last year's total of 4,093.
Other records
Professional (veterinary medicine) enrollment is at a record 596, up from last year's 586 students. Veterinary medicine total enrollment is 765.
Nonresident enrollment is 12,363, a new record – up 854 over last year's total of 11,509.
Fall 2017 enrollment by college
| | |
| --- | --- |
| Agriculture and Life Sciences | 5,333 |
| Business | 4,921 |
| Design | 2,039 |
| Engineering | 9,669 |
| Human Sciences | 4,640 |
| Liberal Arts and Sciences | 8,284 |
| Veterinary Medicine | 765 |
| Interdepartmental units and graduate undeclared | 342 |
| Postdocs | 328 |
| Total | 36,321 |