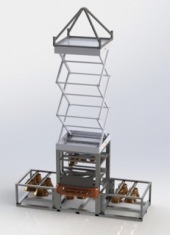 A two-year project to design and build a portable one-fifth scale model of the campanile -- with a playable carillon -- is nearing completion. A series of events is being planned for next week to raise funds for manufacturing the bells, model and trailer.
"This campanile-carillon model is truly a collaborative project showcasing our Cyclone spirit," said Tin-Shi Tam, ISU carillonneur and Cownie Professor of Music. "From fundraising to building the model, students, faculty and staff from different disciplines work together to make it happen. We want everyone to chime in and be part of this project."
The fundraising events will be held at the campanile from noon to 2 p.m. Sept. 13-15, and 5-8 p.m. Sept. 13 and 16 (updates will be posted online). They include:
Karaoke with the carillon, choose from a list of classics or make a request for an additional charge, $50 per group (up to five people)
Campanile tours, photos and ring the carillon's biggest bell, $10-$30
Memorabilia sale, featuring one-of-a-kind carillon and campanile items, and 3-D printed models, $5-$100
Lessons, learn to play the carillon, $30 for individuals or $50 for groups of two
Multidisciplinary student teams in Engineering and Design have been working on the project since the first class developed a design during the 2016 spring semester. The project should be completed by the end of 2018.
Tam plans to use the model for outreach activities, including demonstrations, music education and performances. About $60,000 is needed to complete the project.
Related story