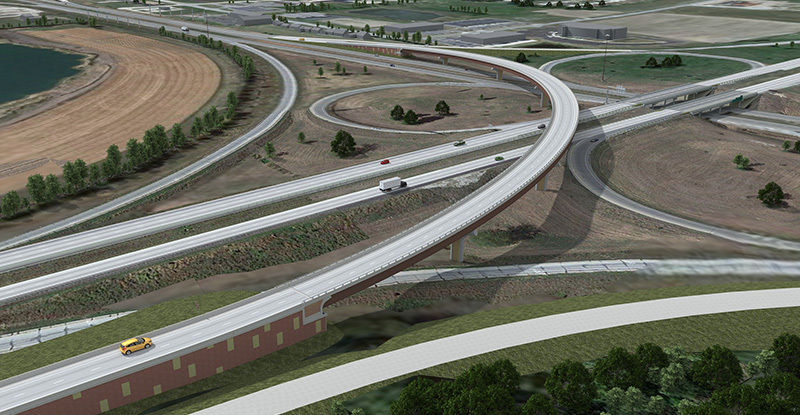 Construction planned this summer at the Interstate 35-U.S. Highway 30 interchange east of Ames temporarily will impact how employees, students and visitors from the north arrive on campus.
Beginning Monday, May 8, and continuing through mid-August, southbound vehicles on I-35 won't be able to exit to westbound Highway 30. To arrive on campus, drivers should:
Exit at 13th Street (Exit 113) and drive west into Ames
Turn left (south) on Grand Avenue/U.S. Highway 69
Turn right (west) on Lincoln Way and continue to campus
Drivers from the north wanting to travel west of Ames on Highway 30 also should exit at 13th Street, turn left at Dayton Avenue and travel south to the westbound Highway 30 on-ramp.
The detour should be revoked before fall semester begins, said Iowa Department of Transportation engineer Jesse Tibodeau, who oversees the project. Campus hosts are asked to share this information with their guests as they make arrival plans.
New look for the interchange
The two-year interchange project will replace the northeast loop of the existing cloverleaf -- which carries northbound vehicles on I-35 to westbound Highway 30 -- with an elevated "flyover" ramp. When the new ramp is completed, Tibodeau said northbound vehicles will travel on a ramp that veers west over the top of I-35 and returns to ground level near the southbound I-35 to westbound Highway 30 exit ramp. Work this summer will install the pavement at both ends of the flyover ramp (southeast and northwest corners of the interchange) and begin to construct the bridge.
A few other project notes for this summer:
Drivers on I-35 arriving from south of Ames will continue to use the existing exit to get to westbound Highway 30
The exit ramp to Dayton Avenue from westbound Highway 30 also will be closed from May 8 to mid-August. Motorists wanting to reach South Dayton Avenue from westbound Highway 30 should exit at Duff Avenue, drive north for a block and turn right (east) on SE 16th Street, which will take them back to Dayton Avenue.
I-35 and Highway 30 occasionally will close overnight (1-5 a.m.) for bridge construction
Goal: Safety
Tibodeau said the new ramp project is intended to create a safer, more efficient interchange. Specifically, it will help reduce conflicts in a short merging zone between vehicles leaving and entering the northbound lanes of I-35.
The northbound I-35 exit ramp to eastbound Highway 30 (Nevada) will be reconfigured later in this project, which is expected to wrap up in late 2018.