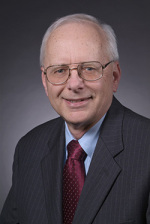 David Holger, who serves as both associate provost for academic programs and dean of the Graduate College, has announced his retirement, effective June 30.
Parallel, internal searches for the two positions are underway.
Senior vice president and provost Jonathan Wickert said the next associate provost will collaborate closely with the academic colleges and division of student affairs, and the fulltime dean of the Graduate College will focus on initiatives to enhance the graduate student experience and Iowa State's status within the American Association of Universities.
Library Services dean Beth McNeil will chair the associate provost search committee. College of Engineering dean Sarah Rajala will chair the Graduate College dean search committee. Additional information is available on the senior vice president and provost website. Nominations may be submitted to the respective search committee chairs (mcneil@iastate.edu or rajala@iastate.edu).
43 years of service
Holger, an expert in noise control and co-holder of three U.S. patents, joined the department of engineering science and mechanics in 1974. He served as the first chair of a newly formed department of aerospace engineering and engineering mechanics, and later as associate dean for academic programs and budget in the College of Engineering before being named to his current position in 2004.
"Dave's passion for excellence, and his fostering of collaborations across colleges and divisions, has raised the bar for all of Iowa State's academic programs," Wickert said. "He leaves an outstanding legacy that has positioned the university well to serve the next generation of students."
Holger has served the university in numerous capacities during his career, including as president of the Faculty Senate (1989-90 academic year), chair of the ISU presidential search committee (1990-91) and chair of the strategic planning review committee (1993-94).
A reception for Holger is scheduled for Friday, June 30. Details will be announced soon.