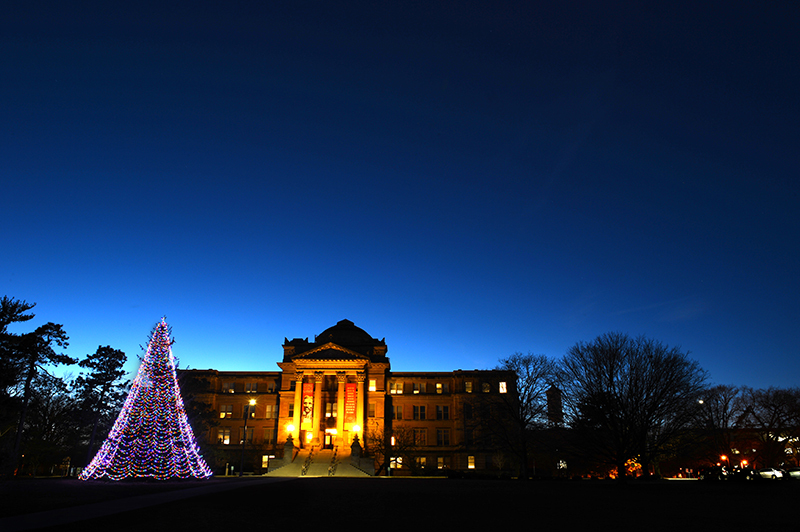 Campus and community members are invited to come together for the annual WinterFest celebration. Most events will be held on Friday, Dec. 2. Activities are free (unless indicated) and open to the public.
A weeklong clothing drive (Nov. 28-Dec. 4) already is underway. Gently used or new clothing donations -- preferably winter hats, socks, gloves and coats -- will benefit Ames-based Youth and Shelter Services. Collection boxes are located in LeBaron and Oak-Elm halls, Memorial Union, Union Drive Community Center and Maple-Willow-Larch commons.
In addition to Friday, these WinterFest activities include more dates: Art Mart sale (3-5 p.m. Thursday, 10 a.m.-1 p.m. Saturday), University Book Store winter sale (7:45 a.m.-6 p.m. both days) and Cyclone Cinema showings (7 and 10 p.m. Thursday through Sunday).
WinterFest: Friday, Dec. 2
7:45 a.m.-5 p.m., Winter sale, up to 50 percent off select items (University Book Store, Memorial Union)
10 a.m.-6 p.m., Art Mart, hand-crafted items (jewelry, pottery, glass, prints and more), proceeds support local artists and organizations (MU Campanile Room)
3-6 p.m., Holiday open house, hosted by ISU first lady Janet Leath, enjoy holiday decorations in the president's home and the famous Knoll hot chocolate (The Knoll)
4-7 p.m., Sampling, warm up with some seasonal beverages (MU Market Café)
4-8 p.m., Campanile tours and carillon music, led by university carillonneur Tin-Shi Tam (campanile)
4-8 p.m., Photo opportunity, with the Snow Princess and Ice Queen (MU Cardinal Room)
4-8 p.m., Service project, write letters to deployed military service members (MU Cardinal Room)
4-8 p.m., Crafts, create holiday cheer (MU Workspace)
4-10 p.m, Chair massages, enjoy a five-minute massage (MU Gold Room)
4-10 p.m., Bowling and billiards, includes free equipment and shoe rental (MU CyBowl and Billiards)
5:30 p.m., Andy Albright Jingle Jog, proceeds from the fun run benefit a memorial scholarship honoring the former Freshmen Council member (central campus, register at the MU Multicultural Center 3:30-5:15 p.m.), $20
5:30 p.m., Tree lighting ceremony, with live music by the Count on Us a capella group (Beardshear steps)
6 p.m., Crafts, create photo snow globes, while supplies last (MU Multicultural Center)
6-10 p.m., Bingo, must have a student ID to win a prize (MU Pioneer Room)
6 p.m., Cookies and hot chocolate, decorate sugar cookies, while supplies last (MU Trophy Tavern)
6-10 p.m., Karaoke, drop in to participate (MU Gallery)
7-10 p.m., "Just Dance," drop in to participate in the video game (MU Maintenance Shop)
7 and 10 p.m., Cyclone Cinema, Snowden (101 Carver)
8 p.m., Chili feed, with corn muffins (MU commons)
9 p.m., Performance, comedian Nick Swardson (MU Great Hall), $20 ($12 for students)
10 p.m.-2 a.m., Ice skating, free for first 1,000 participants (Ames/ISU Ice Arena)