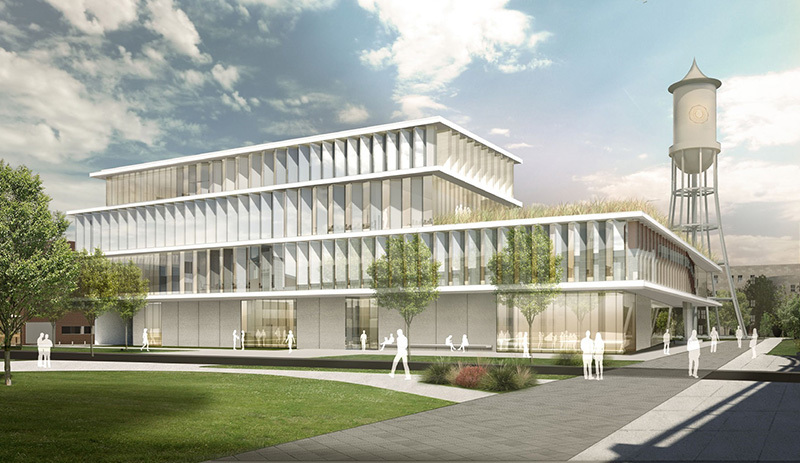 A vote on 2017-18 tuition and fee rates, a green light on proposed faculty professional development assignments for next year and final board approval of the Student Innovation Center are anticipated when the state Board of Regents meets Dec. 5-6 at the University of Northern Iowa. More than half of the two-day gathering will be used to interview three finalists for the UNI presidency and select the next president. Not on the agenda is the outcome of an audit of travel policies and state equipment use at the three regent universities, including Iowa State's purchase of airplanes. The board requested the review last month from its audit team on the heels of questions about President Steven Leath's use of university planes.
Audio of public portions of the meeting will be live streamed on the board's website. The agenda and supporting documents also are online.
Student center
The regents will be asked to sign off on a schematic design, project description and budget ($84 million) for the Student Innovation Center, to be built north of Hoover Hall. The southeast end of Sweeney Hall and the Nuclear Engineering Lab will be demolished in the spring to create space.
The 140,000-square-foot building will be cross-functional, collaborative and used by students from all corners of campus. Flexible spaces will be used for a range of activities and events. Specific spaces will be dedicated for fabrication, prototyping, documenting, design, testing and assembly. As proposed, the facility would be clad predominately with a high-performing glass that balances aesthetics with performance and environmental goals. The east, south and west facades would manage solar heat while providing high visibility into and out of the building to showcase student activities. Most of the north façade would be opaque for high insulation.
The project will be paid for with $44 million in private gifts and $40 million in state appropriations (spread over four fiscal years, 2017-20, as approved by the 2015 Legislature). The budget includes $64.4 million in construction costs, $10.7 million in design and project management fees, $6.6 million in equipment and furniture, and a $2.3 million contingency.
The anticipated timeline is to begin construction next summer and wrap up by January 2020.
Faculty professional development
Iowa State leaders will seek approval for 42 faculty development assignments during fiscal year 2018. This is an increase over this year's 31 assignments and the 37 approved in both FY 15 and 16. Fifty faculty members, from an eligible pool of 1,872, submitted proposals. The submitted list includes 13 projects that will last for the academic year and 29 that will last for six months or less.
The three regent universities establish their own policies and rules for eligibility. At ISU, all faculty members employed at least halftime are eligible to apply for a professional development assignment. There is no requirement on length of service. Priority may be given to tenured faculty over adjunct and nontenured faculty, and to individuals who have not had a professional development assignment in the last five years.
Tuition and fees
The board took a first look at proposed 2017-18 tuition rates at its Oct. 20 meeting; a vote is scheduled for Dec. 5. If the proposal is approved, tuition for most resident undergraduates would go up $142 (2 percent) next year. A 3 percent increase is proposed for nonresident undergraduates ($614), graduate students ($254 for residents, $654 for nonresidents) and veterinary medicine students ($646 for residents, $1,430 for nonresidents).
Iowa State's tuition proposal includes differential tuition for juniors, seniors and graduate students in five programs: animal science, biology, computer science, industrial design and natural resource ecology and management. The proposed differentials -- $1,600 in the undergraduate programs and $1,124 in the graduate programs -- reflect higher instruction costs and would be implemented over three years.
Iowa State also proposes to adjust several previously approved tuition differentials for consistency. These changes include:
Raise the differential tuition rate for bachelor of architecture students to the same level as the five undergraduate programs above. Architecture students have paid differential tuition since the 2012-13 academic year, currently about $1,250. To reach a $1,600 differential in three years, an additional $98 for residents and $106 for nonresidents would be assessed in year one.
Raise differential tuition for upper division Business students over three years to match that for upper division students in Engineering, ag systems technology and industrial technology (currently a difference of about $560 for resident students). Next year, junior and senior Business students would pay an additional $190 (resident) or $180 (nonresidents).
The 2017-18 year is the second in a three-year plan in which all international students will pay $500 per year incrementally above nonresident tuition increases, for a total of $1,500 when fully implemented.
More Iowa State items
In other Iowa State-related business, the board will be asked to:
Approve the university's request to name the Black Cultural Center on Welch Avenue the George Jackson Cultural Center in memory of the former assistant vice president of student affairs and assistant dean of the Graduate College. Jackson, an advocate for underrepresented students, retired from Iowa State in 2009 and died in July.
Approve the university's request to purchase 78 acres on University Boulevard immediately south of the ISU Research Park from Ames' Hunziker family for about $2.5 million. This includes approximately nine acres previously transferred to the university so that infrastructure improvements could begin as part of the park's third phase. The purchase would be funded by prior land sale proceeds and facility overhead use funds.
Approve an $11.4 million renovation of the bathrooms in six Richardson Court residence halls: Barton, Birch, Freeman, Lyon, Roberts and Welch halls, to be funded by dormitory system funds. The changes would create more privacy; revamp restroom accessibility to meet the Americans with Disabilities Act; update mechanical, electrical and plumbing systems; enhance lighting and upgrade energy efficiency. The work would be completed in two phases, during the summers of 2017 and 2018.
Approve two renovation projects for the Wallace and Wilson residence halls (The Towers): a $3.3 million replacement of 1,280 windows and a $2.7 million effort to replace the flooring in student rooms and lighting in the corridors and paint the building interiors. The work also would take place during the summers of 2017 and 2018. Dormitory system funds also would cover these costs.
Approve three leases with the city of Ames for university land the city operates as public parks. They are: 67 acres for Brookside Park on Sixth Street, 26 acres for Stuart Smith Park on University Boulevard (20-year leases for both) and four acres for Franklin Park on South Franklin Avenue in west Ames (4.5-year lease). Iowa State intends to sell the Franklin property in 2021.