ISU Theatre wraps up its fall season with six performances of "The Night Thoreau Spent in Jail" over the next two weekends at Fisher Theater. Opening night is Friday, Dec. 2 (7:30 p.m.). Additional performances will begin at 7:30 p.m. on Dec. 3, 9 and 10, and at 1 p.m. on Sunday, Dec. 4, and 2 p.m. on Sunday, Dec. 11.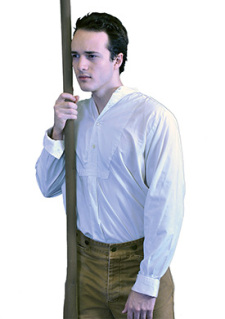 The play, written in 1969 during the Vietnam War, takes place over the course of a night in 1846 that writer and abolitionist Henry David Thoreau spent in jail. He refused to pay a poll tax because he doesn't want his money supporting what he considers his country's unjust war with Mexico. In jail, Henry talks with his cellmate, and in a series of flashbacks, the play tracks the events that led to Henry's arrest. They include his education at Harvard, brief career as a teacher, his relationship with mentor (and later neighbor on Walden Pond) Ralph Waldo Emerson, and his act of civil disobedience.
Professor of theater and director Jane Cox said the play is less about an icon and more about a 28-year-old man searching for the best way to live his life.
"In so doing, he discovers that his idols may not be perfect, that love is not always returned, and that not everyone is going to approve," Cox said. "He also discovers that there is great joy to be had in hearing 'a different drummer' and following a unique path."
The production features senior Michael Clinkscales (psychology) as David Henry Thoreau, senior Keegon Jackson (performing arts) as Ralph Waldo Emerson and senior Emily Linch (English education) as Emerson's wife, Lydian.
Juniors Lindsay Koehler (journalism) and Rebel Clodi (performing arts) have the stage manager and costume designer responsibilities, respectively, for the production.
Cox said the production makes use of images -- locales both indoors and out -- projected around the stage to assist with the play's rapid scene shift.
Tickets are $18 ($16 for senior citizens, $11 for students) and can be purchased at all Ticketmaster locations, including the ticket office in Stephens Auditorium, or at the door.