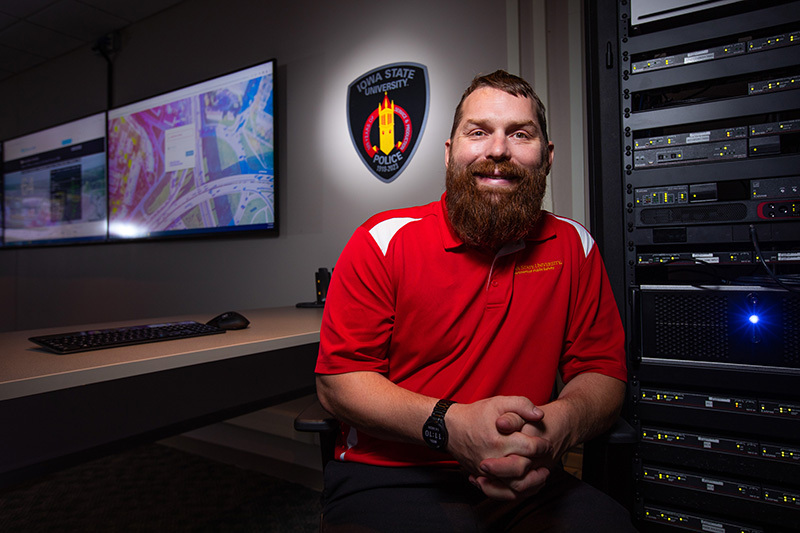 Whether it's a major weather event -- like a derecho -- or a football Saturday, Iowa State is better equipped to handle emergencies and large events with the addition this summer of a secondary emergency operations center (EOC).
The primary EOC is in the Environmental Health and Services Building and run by its emergency management team, but the recently completed EOC in the Communications Building will serve as a second option and be the primary post for a couple of football games this fall.
"I wanted to have a command post in case there is a major event on campus, and we were able to turn this space into that through a collaboration with information technology services (ITS) and the Iowa State Police Department," associate vice president and chief of police Michael Newton said. "During the derecho, the Communications Building was one of a handful of buildings on campus that still had power."
Newton said the university's ability to respond during major events has improved by adding a second EOC. It is the same reasoning behind having a significant ISU police presence at the football stadium during games in addition to the primary EOC and a mobile unit -- redundancies are an important part of safety.
Nick Swanson, department of public safety emergency management director, began planning to convert the conference room into a second EOC at the end of April. It got its training wheels removed when RAGBRAI came through campus at the end of July, and is ready when the football team kicks off its season at Jack Trice Stadium on Sept. 2.
Executing a plan
Swanson began examining the infrastructure of the conference room to ensure emergency power was available and it was capable of transmitting data.
"[Facilities planning and management] did a feasibility and electrical study and a business cost analysis," he said.
Color-coded outlets with dedicated circuits are available throughout the room. Orange provides data/phone access, green outlets allow ISU dispatch to direct units from inside the room and blue outlets connect to the technology hub. The hub controls what information is shared on screens and monitors in the room and facilitates communication with others outside of the EOC.
"We can do all of our police dispatch functions from this room without having to radio to another building," Swanson said.
Because it is a shared space, ITS has access to the room when the police department is not using it.
"We only need the room once in a great while -- hopefully we never need it -- so the space is not wasted when we are not using it," Newton said.
The doors leading to the EOC have a lockdown function that requires a card to enter. Two other rooms adjacent to the EOC also are available.
"The other rooms are breakout spaces that have monitors, whiteboards and tables and you can push information on any of the screens into one of those rooms," Swanson said. "If you have a group, like a senior leadership group that wants to be a little more private, it allows for that."
Technology
All technology in the hub was built by ITS except for the computer, which was constructed by the department of public safety system analyst Josh Hale. The room features a camera, two laser projectors, four large monitors that can display different content simultaneously, glass magnetic whiteboards and numerous wheeled tables and chairs. Each table includes its own power outlet.
The closet holds numerous phones, data lines, a hygiene and office supply box, maps, a folder of federal forms required during emergencies and extra laptops.
"You can have the news on one monitor, the camera feed on another and incident status on another," Newton said. "We did a video call with the city's command center during RAGBRAI so we could see each other and talk."