How will ISU Theatre's spring musical, "BABA," look and sound when it opens April 7 in Fisher Theater? Even the cast and creative team aren't 100% sure. ISU Theatre is workshopping a musical for the first time, collaborating with New York-based composer Elliah Heifetz and librettist Jessica Kahkoska.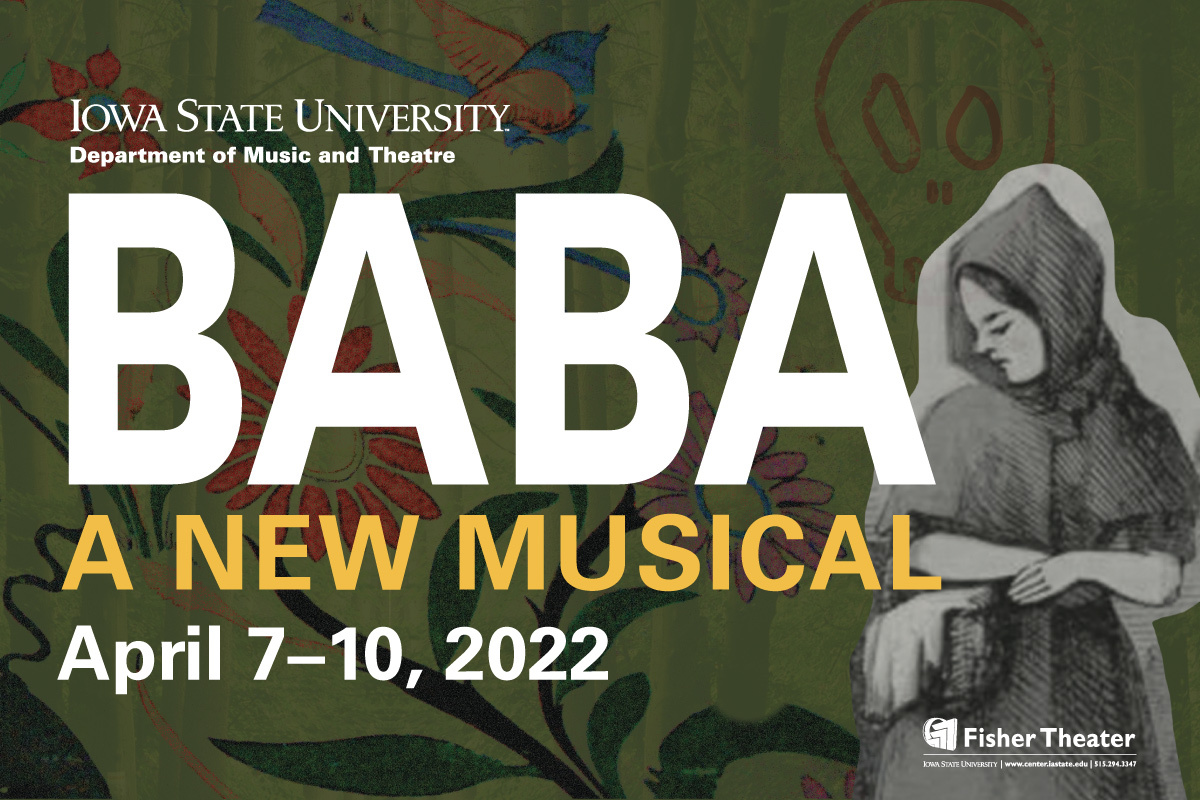 Workshopping, in theater terms, gives playwrights, producers and composers a chance to develop and improve their material before scaling a full production. They can see how audiences react to a story, learn if the material is ready for actors and singers, and even write new pages or songs up to the last minute.
The workshop process is an innovative hands-on learning opportunity for Iowa State students.
"Out in the real world, if you're lucky enough to be working on a new production, you will have people responding in real-time," said Cason Murphy, assistant professor of theatre and the show's faculty director. "It's less theoretical than what we talk about in our classes. We're bringing the playwright and the composer right to them. This is thrilling and exciting because it gives students some say over the final product in a way that usually doesn't happen."
Performances for "BABA" are at 7:30 p.m. April 7-9 and at 2 p.m. April 10. All seating is general admission. Tickets ($25 for adults, free for Iowa State students and youth) can be purchased at the door, the Stephens Auditorium ticket office or through Ticketmaster.
The right project for ISU Theatre
Last summer, ISU Theatre issued a call for musicals to workshop on the New Play Exchange, a digital script library. Murphy received more than 100 submissions. During a conversation with Heifetz and Kahkoska about their pitch, he learned they had another story on the back burner that seemed to check all the right boxes for ISU Theatre -- a contemporary musical with an ensemble cast and a story focused on relevant, timely issues.
"BABA" is the tale of teenage climate activist Sylvie who lives at the edge of a forest in Appalachia. When Sylvie ventures into the forest on a mission to save it, she meets an old woman who turns out to be Baba Yaga, the mythical witch of Russian folklore. Sylvie and Baba Yaga realize they are entangled in the strands of a bigger, darker story, and the pair must learn to trust one another. The contemporary musical score interweaves the enchanting sounds of Americana, Russian folk and pop.
'Pieces of gold'
Workshopping a production gives students better insight into industry practice, where a show is created over months, or years, with many revisions. "BABA" also is the focus of a new Iowa State seminar class this spring, Advanced Musical Theatre, so students can learn inside and outside the classroom.
"Every time I come into rehearsal, I'm most excited to learn from everyone else," said Breanna Penenger, senior music major and cast member. "The cast and team bring in these little pieces of gold to every rehearsal, which inspires me to dig deeper as an artist and contribute as well."
Murphy said workshopping "BABA" has uniquely engaged students' imaginations and challenged their problem-solving skills.
"It makes them more dynamic as theater-makers," he said. "That's what we're after in this department. It's not a conservatory approach. It's a liberal arts view of creative people who are engaged with all aspects of this art."