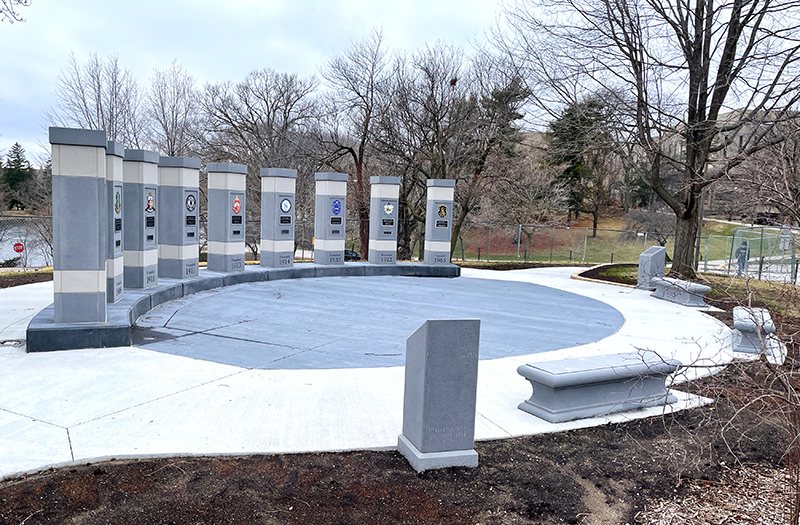 By this weekend, the construction fence will come down around the National Pan-Hellenic Council plaza on the Memorial Union (MU) north lawn and the site can be used as intended -- a gathering place and event space for students.
The campus community is invited to a public ceremony, ribbon cutting and reception Sunday, April 3, celebrating the plaza's completion. It begins at 1 p.m. in the MU Great Hall.
The plaza's nine columns honor the nine historically Black fraternities and sororities of the National Pan-Hellenic Council (NPHC), eight of which have chapters at Iowa State. It includes seating and historic information about the NPHC, but a key feature is open space. Associate vice president and dean of students Sharron Evans, a Delta Sigma Theta sorority member, said that's the point.
"That was very intentional so there can be activity on the plaza, an active space where students can engage," she said. "And it's not just for those who belong to Black Greek letter organizations. It's for everyone to enjoy, because the plaza also is an educational tool."
Evans said Black sororities and fraternities typically don't own houses near a university campus, and where they do, they're often not part of a "Greek Row." The plaza represents the Iowa State home of the Black Greek organizations and "says they're a part of this university community," she said.
The decision to locate the plaza on a prominent, central campus corner reinforces that statement, she added.
"We want all students, faculty, staff and campus visitors to enjoy that space, and at the same time honor the history that goes with those organizations and the need for that space on our campus," Evans said.
The plaza dedication is part of a reunion weekend for members and alumni of the NPHC that includes campus tours, Saturday breakfast hosted by students and a Saturday evening gala.
The National Pan-Hellenic Council at Iowa State
The NPHC was founded in 1930 at Howard University, Washington, D.C., with five charter organizations:
Alpha Kappa Alpha sorority
Delta Sigma Theta sorority
Zeta Phi Beta sorority
Kappa Alpha Psi fraternity
Omega Psi Phi fraternity
Since then, the council added four organizations:
Alpha Phi Alpha fraternity (1931)
Phi Beta Sigma fraternity (1931)
Sigma Gamma Rho sorority (1937)
Iota Phi Theta fraternity (1997)
All but Iota Phi Theta have a chapter at Iowa State. The NPHC and Iowa State have a long history. For example, two of the university's most famous Black students, George Washington Carver and Jack Trice, were members of NPHC fraternities Phi Beta Sigma and Alpha Phi Alpha, respectively. Iowa State chapters for two others, Delta Sigma Theta sorority and Kappa Alpha Psi fraternity, are single letter chapters -- among each group's earliest.
Evans said she anticipates completion of the plaza in a prominent location will help renew interest and recruitment in the eight organizations.
Fundraising continues
The student affairs division provided seed money to construct the plaza, with the goal of covering most of the estimated $400,000 cost with private gifts. University alumni, friends, employees and current students already have supported the project, and fundraising efforts are ongoing, including a FundISU site, which will remain live for several weeks this spring.
Dana Savagian, associate director for annual and special gifts at the ISU Foundation, said it's likely the account supporting the plaza will remain open for years to come, since upkeep is critical to maintaining the plaza. The foundation also has a printable form for pledges, including a payroll deduct option. The form, or gifts by check, can be mailed to: ISU Foundation, PO Box 2230, Ames 50010.