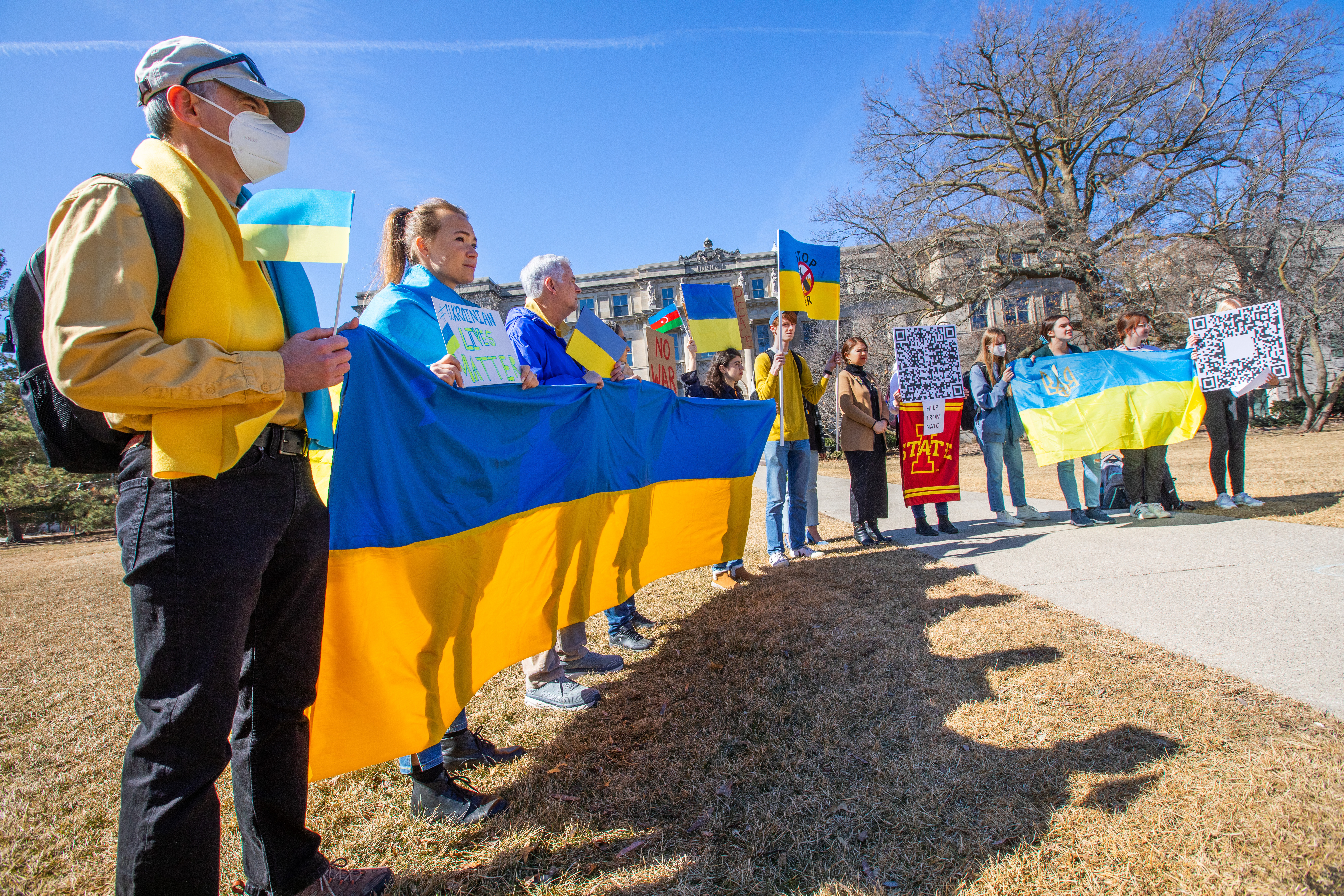 Last week's Russian invasion of Ukraine has left the Iowa State community shocked and saddened. The first large-scale land war in Europe since World War II has already claimed the lives of hundreds of civilians and soldiers.
While Iowa State currently has no students, faculty or staff in Ukraine, the university has long partnered with Ukrainian institutions to share knowledge, exchange students and collaborate on research projects. Others have ties to the region through study abroad programs and participation in programs like the Peace Corps.
"The war in Ukraine is a senseless and unprovoked tragedy that has already impacted the lives of millions of people," said President Wendy Wintersteen. "Our thoughts are with the Ukrainian people and with their loved ones in places like Ames. We wish them safety and freedom, as well as a peaceful end to this crisis."
Impacts of the war ripple across campus community
Wintersteen asked the campus community to offer an extra degree of care and compassion for colleagues from Ukraine and Eastern Europe and from all areas of the world where the threat of war is a daily concern. She also cautioned against prejudice or bias toward Russian students, faculty and staff, who are not responsible for the actions of Vladimir Putin's regime.
Risk management monitors travel to the region
The office of risk management (ORM) continues to monitor the safety of travel in the region. The university does not currently have any travelers in Ukraine, Russia or Belarus, and study abroad programs to Ukraine and Russia have been suspended until further notice.
Travel to neighboring nations also may pose a risk. ORM staff recommend avoiding nonessential travel to Estonia, Finland, Hungary, Latvia, Lithuania, Moldova, Poland, Romania, Slovakia and Sweden. Travelers currently in these locations have not been asked to leave but are encouraged to monitor the local news for developments that could impact their safety.
How to help
Anson Marston Distinguished Professor of Engineering Valery Levitas, originally from Kyiv, has many family members and friends still in the city. He reports his family spends sleepless days and nights in a small, self-made underground cellar, with space for only four chairs. Humanitarian aid is urgently needed.
"The food stores that can be reached are now empty and neighbors are sharing their remaining food," Levitas said. "Any amount of support can make a difference."
Individuals who wish to offer financial support to the Ukrainian people can do so in a variety of ways. Established international relief organizations include: