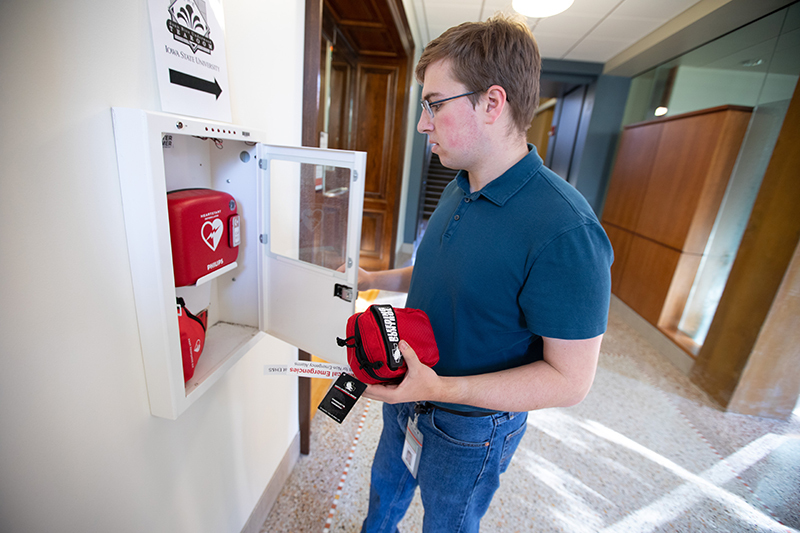 A new initiative that touches every corner of campus hopefully will never be needed.
ISU Police and the environmental health and safety (EHS) department have partnered to bring the national Stop the Bleed campaign to Iowa State, installing bleeding control kits in every one of the nearly 140 cabinets across campus that holds an automated external defibrillator (AED).
"While severe bleeding is not common, when it does occur it can be life-threatening in a matter of minutes," emergency manager Clayton Oliver said. "The kits enable members of the campus community to help in those initial minutes before professional responders get there. It may seem like a little thing, but the little things add up to help prepare us for our next disaster."
Though anyone can use the bleeding control supplies if needed, accompanying Stop the Bleed training is designed to give bystanders the confidence and know-how to use simple but effective life-saving methods to spring into action.
"We want you to have the knowledge, skills and abilities -- and then never use them," said associate vice president and police chief Michael Newton. "We all have a responsibility to be prepared for the worst."
Program's origins
After 28 people were killed in 2012 in the deadliest K-12 shooting in U.S. history, at Sandy Hook Elementary School in Newtown, Connecticut, a local trauma surgeon convened a panel of national experts to evaluate the response. Incorporating new military data on treating hemorrhaging injuries in Iraq and Afghanistan, the panel developed recommendations for improving the survival of people who are severely bleeding. That led to the White House launching Stop the Bleed as an awareness campaign in 2015. More than 1 million people have taken a Stop the Bleed training program since they were first offered in 2017.
The techniques taught in Stop the Bleed training are useful in any instance of uncontrolled bleeding. Though they are rarely serious, cuts are among the most common injuries on campus, Oliver said.
"That happens for a variety of reasons," he said. "We have farms, labs and workshops. We have 30,000 students who don't always think things through involving knives and glass."
Installing the kits
Newton and Oliver had discussed bringing Stop the Bleed to campus before COVID-19 struck, but the plan was put on hold until this summer, when the reduced need for an emergency response to the pandemic allowed time to revisit back-burner projects, Oliver said.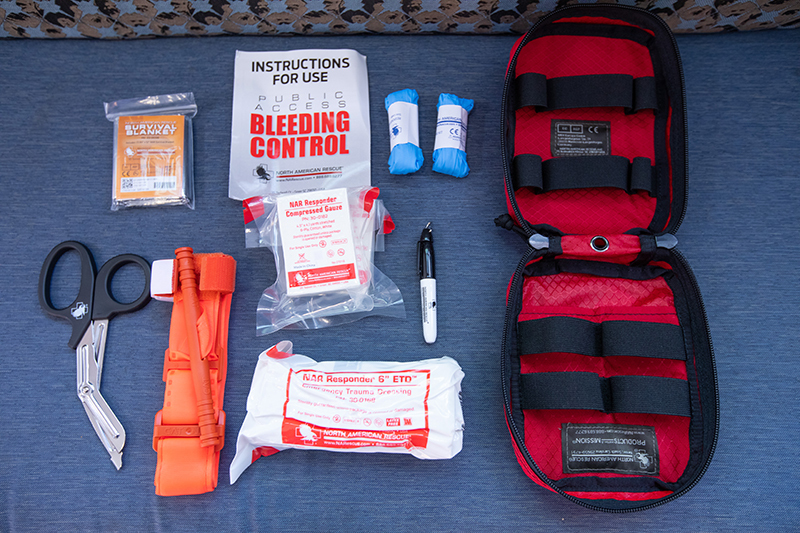 ISU police paid for the bleeding control kits, which have been installed over the past six weeks by EHS student employees who conduct inspections of fire extinguishers and AEDs. Each kit includes a tourniquet, compressed gauze and trauma dressing, a survival blanket, nitrile gloves, trauma shears and a permanent marker.
The kits' contents support the main techniques taught in Stop the Bleed: correctly using tourniquets to stop severe blood loss in limbs and, for other traumatic injuries, applying pressure and packing wounds with gauze and dressing. Gloves protect the treatment provider from bloodborne pathogens, shears can cut off clothing if necessary, the blanket preserves the patient's body temperature and the marker is for writing what time a tourniquet is applied.
Realistic training
Stop the Bleed training takes about two hours, the first half focused on learning physiological concepts and the second half spent trying out the treatment methods with hands-on bleeding simulators. The classroom half of the training may soon be available online, but there's no replacing the experience of working with a simulator, Oliver said.
"Hopefully, they get a sense of how it feels," he said.
The hands-on portion includes both a simulated torso and a limb. Fluid representing blood is pumped through the wounds on each, so trainees can see how pressure and gauze can slow blood flow and if they've used the tourniquet correctly.
"When I was at University of Kentucky, we usually used pink Crystal Light because it was easily visible but not too similar to blood," Oliver said.
A team of instructors is being assembled, many of them ISU police officers. Newton said the training will be offered much as the police department's violent incident response training, which departments or units can schedule as a group. Sessions geared for interested individuals also will be available for signup on Learn@ISU.
Oliver said Stop the Bleed has been a popular training program at other institutions where he's seen it offered.
"One of the common responses I get is that it's empowering. You're able to be part of the solution instead of standing around asking, 'What do I do?'" he said.