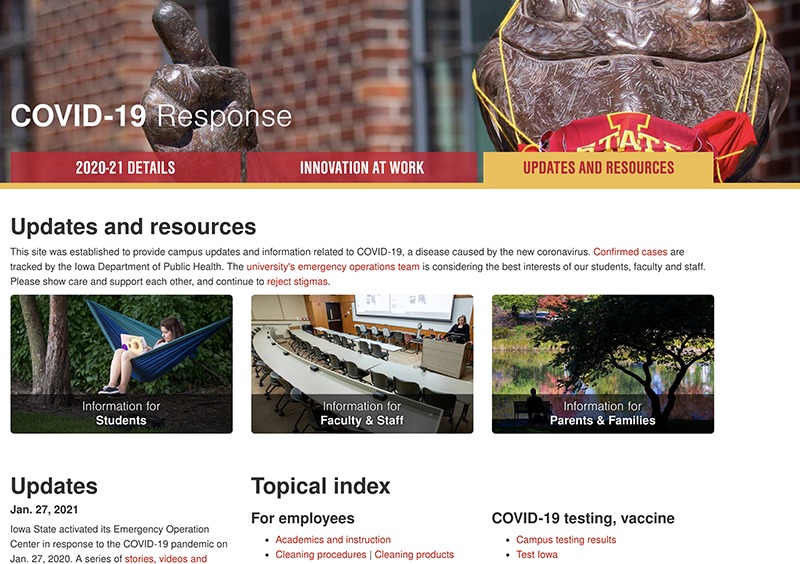 Have a question about how Iowa State is responding to an issue related to the coronavirus? There shouldn't be any question about where to look for answers.
What started out about a year ago as a placeholder website for possible COVID-19 news has become the university's central information source during the pandemic. The COVID-19 response website is where Iowa State shares the latest updates about the virus, addresses common questions and catalogs relevant resources -- a home for crucial campuswide communication and a launchpad for digging deeper into specifics.
The website is constantly evolving as new material is added and out-of-date or less relevant information is removed or reworked, said communications specialist Erin Rosacker, who curates the site along with others in strategic relations and communications and the president's office.
"It's been a fluid situation, so we've had to be nimble to keep everything manageable and not bog it down," Rosacker said. "I'm also making sure things are added that need to be added. You shouldn't have to search through 700 emails to find what you want to know."
The 2020-21 details section of the website outlines important information about academics, student life, health and safety, and other logistics -- the foundations of the COVID-19 response. The innovation at work section is a collection of ISU news stories related to the coronavirus. The updates and resources section hosts an archive of COVID-19 memos from senior leaders, a topic-based index of links, and FAQs for students, employees and families.
Finding the COVID-19 response website is easy, as there are prominent links to it on the main university homepage. Unit websites that maintain a page with COVID-19 resources should be sure to include a link to the central site, as well. Email Rosacker at edavison@iastate.edu with any suggested additions or comments about the website.
"There's a lot of collaboration across campus to make that site as helpful as possible," she said. "I think it's doing its job as an overall information resource. You'd hope that people would make a habit of checking it."