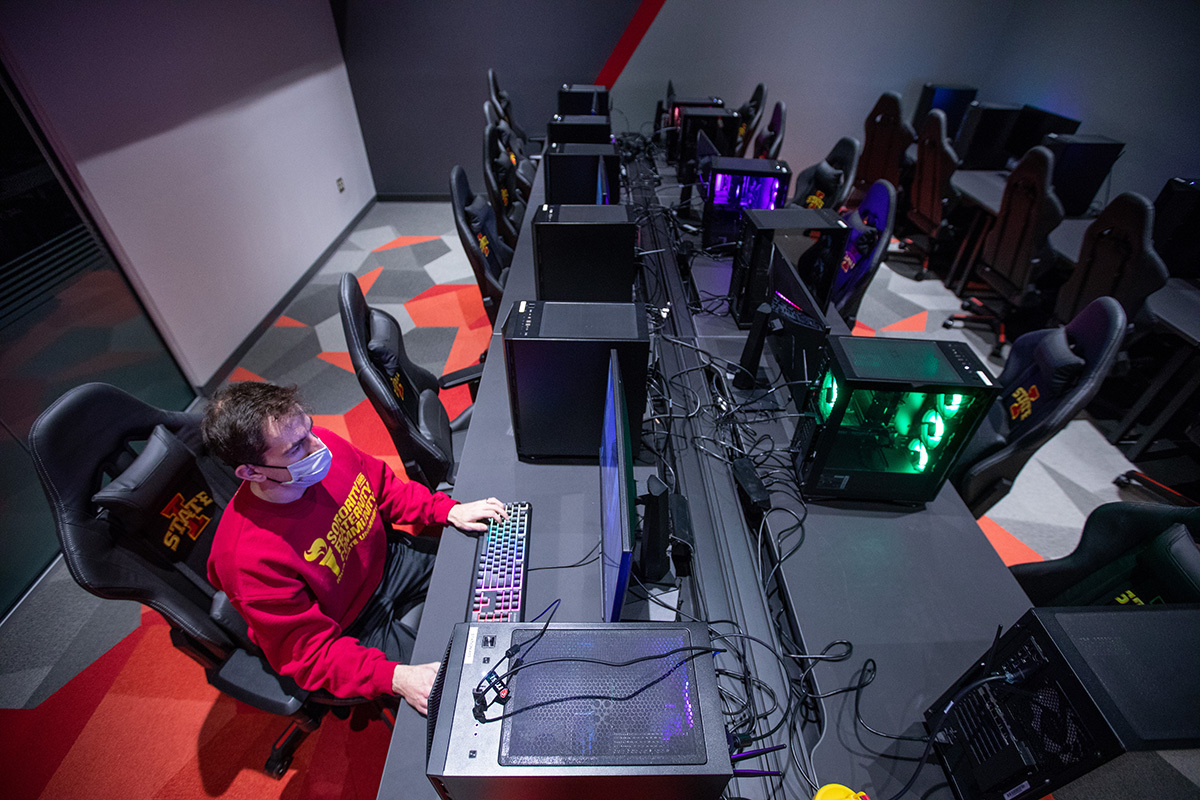 A major reason recreation services wanted to turn a pair of Beyer Hall squash courts into a gaming and esports room was the opportunity for more student interaction.
Gaming
The gaming and esports room in Beyer Hall is available from noon to 10 p.m., except Saturday when the building closes at 6 p.m. Faculty and staff with a recreation services membership can use the room.
Instead of sitting in their dorm rooms, gamers now have a space to gather, socialize, practice and compete. The room officially opened Feb. 1, but the Gaming and Esports Club tested out the computers and system last week.
"We had a soft opening and were able to work out a lot of the kinks," rec services associate director for student success Jason Vlastaras said. "To build relationships and have peer-to-peer interaction was the main purpose of this space before COVID, and it has just been highlighted during COVID.
"Our first day of piloting, there was a group of students talking and it seemed like they knew each other. Partway through, one of them asked, 'Hey, what is your Discord name?' Discord is a chat server and you realize these are students who have interacted for a long time, but this is the first time they are meeting in person."
The process
The conversion began in fall 2019 and concluded this January, with COVID-19 delaying the project about one semester.
A pair of club members -- Ryan Helfers and Mitchell Garrett, who have since graduated -- played a significant role in designing the space for their industrial design senior capstone project.
"They did some 3D designs we could show to facilities planning and management and did a virtual reality walkthrough," Vlastaras said.
The room is divided into two areas: a competitive room with 13 desktop computers for the Gaming and Esports Club to reserve and an open space with 20 desktops students can reserve for up to three hours. There also are four consoles for drop-in use so students can hang out and play PlayStation 4, Xbox One and Nintendo Switch.
The club currently hosts competition in 10 games, with multiple teams and skill levels within each game. The new room likely will host intramural tournaments, and the club has larger tournaments that bring in teams from across the country.
Vlastaras also is working with a research group on campus to add a couple of computers that feature games designed on campus.
"They will do some research around gamification and the benefits of that," said Vlastaras of adding game elements to tasks to encourage people to do them.
Needed area
Before dedicating space to gaming and esports, Vlastaras met with leaders of the gaming club and learned competitive gamers had few places to meet and practice. That meant many gamers didn't know one another. When the club gathered for social events, interested students were limited by not having the correct hardware.
"We moved them into a sport club designation which gives them better access and resources under recreation services, so they are a student club but also a sport club," Vlastaras said.
Vlastaras sent a survey to campus and learned that three-fourths of students game in some manner and most play games for a significant amount of time.
Safety
The room's capacity is 37 people but with coronavirus precautions where every other station is used, current capacity is 18. Cyclones Care behaviors also are followed.
"We have a partnership with the College of Liberal Arts and Sciences. They donated money for us to purchase the majority of the PCs for the space," Vlastaras said. "By chance they also oversee the testing labs on campus, so we have learned how they operate those."
Vlastaras said the reservation system for the esports room uses the same appointment software as the testing centers. Rec services hired student staff to manage and clean the space, and everyone who enters the room is given a disinfectant wipe to clean their stations.
"We also have a giant disinfecting cabinet that sanitizes equipment," Vlastaras said. "It runs through keyboards and mice every couple of hours."