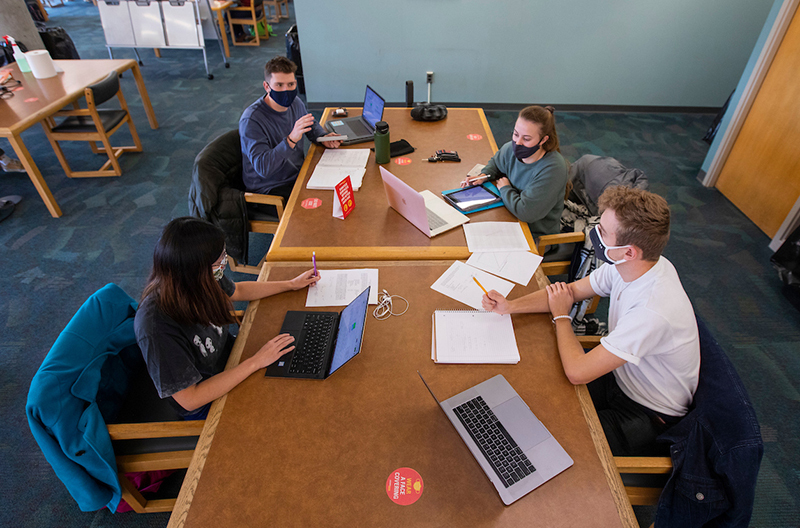 Did you know that it's OK to hold study sessions for your students? Or an in-house retirement reception for your colleague? Or lunch with your research team? These types of gatherings have fallen out of practice during the pandemic, and the university response team (URT) posted guidelines last week, Gathering in person on the ISU campus, intended to help revive them when appropriate.
"This has been a strange document to write -- that it's OK for people to get together, that it's OK to have a study session," said Frank Peters, C. G. "Turk" and Joyce A. Therkildsen Professor in the industrial and manufacturing systems engineering department, Study Abroad Center director and URT chair. "The initial response in March was to move essentially all gatherings to virtual formats and it became the perception that these things couldn't happen in person.
"It is OK to have interactions in person, and this guidance clears up that they're acceptable -- if you follow the precautions," he said. That includes face coverings, physical distancing, 50% capacity limits and, if food is involved, individual prepackaged items or a pack-your-own rule.
It's not new
The guidance doesn't replace or conflict with any university COVID-19 policies or guidelines, Peters said. It simply clarifies and highlights the fact that informal interactions are possible. It also includes links to all relevant documents as a reference.
Many informal gatherings don't rise to the level of an event -- for example, those that are open to the public or involve services from multiple university departments -- and don't need authorization.
Peters noted three caveats to the informal gathering guidelines:
When it's practical, a hybrid option to your in-person gathering is strongly encouraged. Restoring antique tractors or playing pickleball probably aren't candidates, but a business meeting of the antique tractor club is.
Respect that some aren't comfortable attending or can't attend an in-person gathering for health reasons.
While no gathering can be risk-free, those that observe mitigation strategies have lower risk. So, it's important to follow the Cyclones Care strategies: don't attend if ill, wear face coverings, wash hands and remain physically distanced.
Send questions to a new email
To provide prompt answers, URT also initiated a new email, gatherings@iastate.edu, that Iowa Staters may use to submit questions about informal gatherings and "what's possible" or "how can I." The events staff who receive the emails have the expertise to respond.