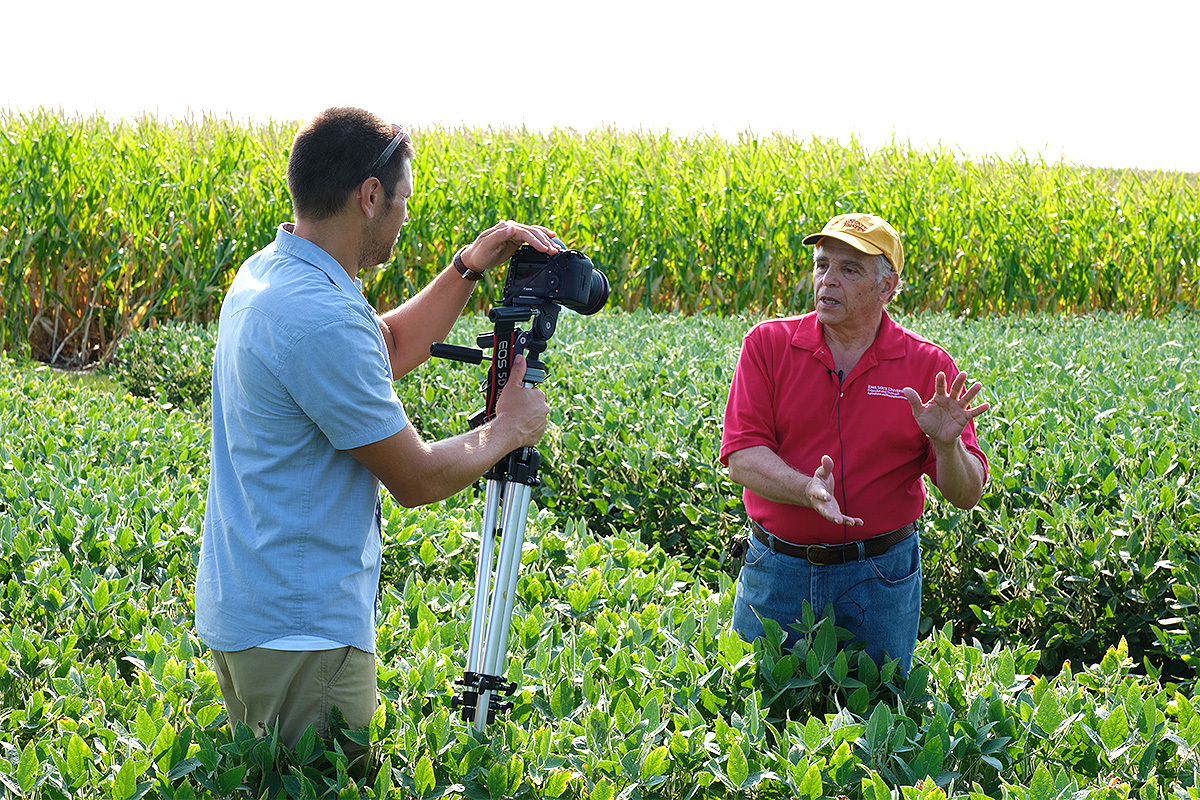 The coronavirus forced ISU Extension and Outreach to cancel its spring research farms field days, but the information is too important for those who make a living off the land to lose the fall event as well.
Extension responded by pulling together resources to have its first large-scale Research and Demonstration Farms Virtual Field Days this week. The event is spread over five days and is another example of efforts to help the agriculture community during a trying time.
It began Monday and concludes Friday, with a different topic presented by an Iowa State expert each day. The Zoom presentations are from 8-8:30 a.m., with the final 10 minutes reserved for questions and answers.
"Knowing how much people like to attend those research farm field days, we decided that if people couldn't come to us we would take the research and extension opportunities to them," said extension field agronomist Angie Rieck-Hinz.
In a normal year, attendance at each field day site ranges from 100-150 people, and as of last Friday, 341 individuals signed up for an online presentation with participants from 12 states and two countries.
"We are seeing people who wouldn't normally drive to Iowa, but they have good questions and good input," said Brent Pringnitz, extension coordinator for program services for ag and natural resources.
Putting it together
One of the biggest challenges of going online was traveling to each field site to record video for a presentation. Extension tapped into employees' talents to collect drone footage of the fields, edit and add data slides to aid presentations.
"From day one of the pandemic, it has been how fast can we get technology in people's hands," Pringnitz said. "Most of our specialists are good with cellphones, and they are already collecting video for social media, but we quickly realized we were going to need more technology."
Pringnitz worked to purchase high-quality microphones and cameras to make the project go.
Many extension staff leaned on Iowa Learning Farms' experience conducting 12 virtual field day offerings since April.
"Since March, we have been doing weekly webinars to share information and took the initiative on doing the virtual field day platforms to be the troubleshooters," said Liz Ripley, extension conservation and cover crop outreach specialist. "We do a follow-up with every live event with an online survey to get feedback from attendees."
Iowa Learning Farms wrote a blog to aid in each step of producing a virtual field day from content and technical production.
Important information
College of Agriculture and Life Sciences endowed dean Daniel Robison kicked off virtual field days Monday with an address.
"The design of field days is to highlight some of the long-term research we are doing, but we highlight a different outlying research farm in each piece," Rieck-Hinz said.
Information came from farms in Kanawha, Nashua and Sutherland in an effort to provide data from areas with different soils and climatic conditions.
Virtual here to stay
Extension conducted a well-received test run of virtual delivery in the spring at one farm. The ability to access research on demand is popular among the online viewers, Rieck-Hinz said. Most virtual offerings can be watched on the viewer's schedule through archives.
Extension's crop team is looking forward to returning to some semblance of normal, but will continue to offer virtual elements.
"We started moving a lot of our offerings online after spring break, and we had a crop scouting workshop online," Pringnitz said. "Normally, we would have 50-60 people at the workshop in May, and we had 750 people sign up for it from 20-some states."
A trying time
As farmers deal with a pandemic, the summer brought a significant drought and a derecho that flattened large amounts of the corn crop. Extension is helping individuals in nearly every aspect of their lives.
"Any way we can reach people -- from Webex, to Zoom, or even podcasts and teleconferences -- is important because people still are looking to us for some help," Rieck-Hinz said.
Extension has developed or updated several programs that assist with mental well-being during a difficult time for agriculture. Two key offerings are Stress on the Farm: Strategies that Help and Question. Persuade. Refer., which help farmers and their families deal with stress and uncertainty. The Stress on the Farm program is offered throughout September while Question. Persuade. Refer. is every Tuesday through October and focuses on suicide prevention.
"We started in April and already had over 500 participants from 14 states and Canada," extension behavioral health specialist David Brown said. "Farmers are at a pretty high risk for suicide, and then you add COVID, the drought and the derecho and it is about as much as anyone can handle."