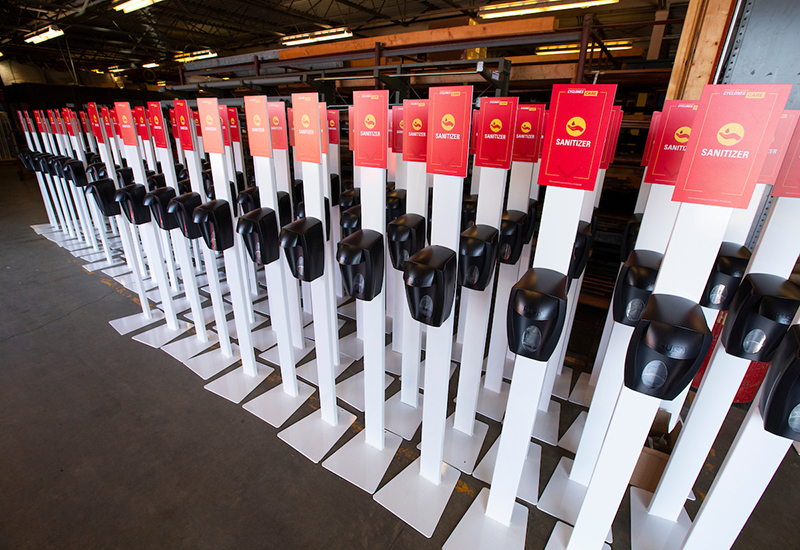 Another university initiative to help employees and students stay healthy when the academic year begins is to provide hand sanitizer on campus -- lots of it. Using a map of administration and academic buildings, a team from facilities planning and management developed a plan for placing and restocking free-standing hand sanitizer dispensers in about 95 buildings.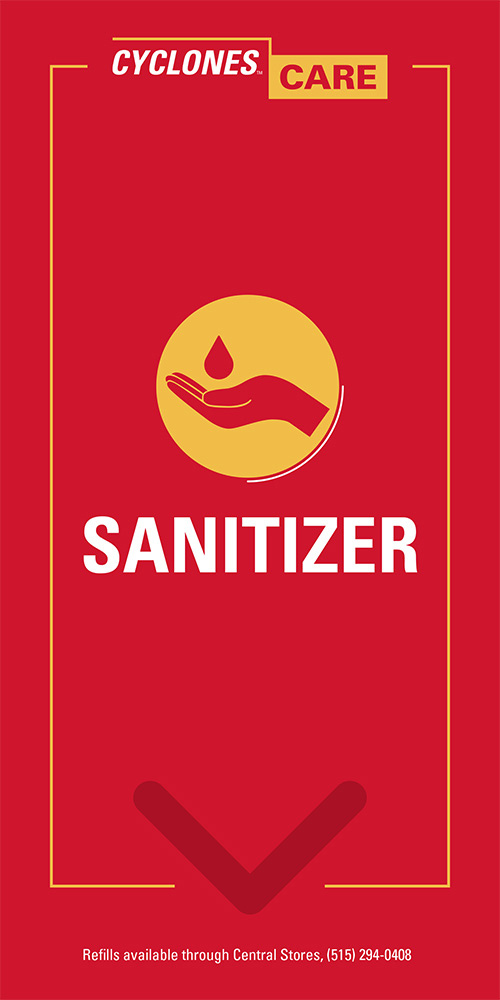 Over two phases between now and Aug. 17, FPM crews will install an estimated 250 units, said Cathy Brown, manager of FPM planning services. FPM custodial crews will restock the dispensers as part of their cleaning and disinfecting responsibilities this year.
Phase 1, which has begun, focuses on buildings with summer employees and adds about 100 hand sanitizer dispensers. Phase 2 puts additional dispensers in many of those same facilities (Bessey, Gilman, Town and Agronomy, for example) and others in buildings closed for the summer, for example, Troxel Hall, Farm House Museum and the Hansen Student Learning Center. Phase 2 adds about 125 dispensers around campus.
Brown said their plan places dispensers in similar locations in buildings across campus -- for example, at building entrances and in lobbies -- so students and employees become quickly attuned to where to find them. This also makes it easier for custodial crews to locate and restock them, she said. The goal is to have one or two in every building, with dispensers available to add as needed in buildings with high student traffic. By selecting a pedestal model, dispensers can be moved according to use patterns, she said.
Other campus facilities
Auxiliary units that operate central campus facilities also are making plans to have plenty of hand sanitizer visible and available when the semester begins. They include:
The Centers for Disease Control and Prevention recommend hand washing with soap and water to protect yourself from the coronavirus. When soap and water aren't available, hand sanitizer is the next option.
The Memorial Union is providing hand sanitizer at about two dozen high-traffic locations on its lower levels, including entrances, information desks, study lounges, student office spaces, parking pay station and the food court/commons area. MU staff intend to add hand sanitizer locations as building traffic demands it.
The residence department purchased 575 hand sanitizer dispensers to place in all residence halls, community buildings and Frederiksen Court apartment buildings. Locations generally are by entrances, in laundry rooms, next to elevator doors and in or near meeting rooms.
Recreation services, which always has provided hand sanitizer at its facilities (in locations such as the check-in desk, help desk, fitness rooms, yoga studios), has nearly doubled its number of hand sanitizer stations, installing portable shelving units to hold additional containers.
ISU Dining, which also has a history of offering hand sanitizer in its campus locations, will add more than 60 dispensers in dining center, café and market entryways, serving areas and other high-touch areas. It also is installing additional dispensers in its kitchen areas and adding signage in dining areas to remind everyone to sanitize their hands before eating.
Local needs
Brown said departments may order hand sanitizer dispensers for use in local offices and conference rooms on central stores' COVID-19 web site. Departments will need to refill and maintain the units they order.