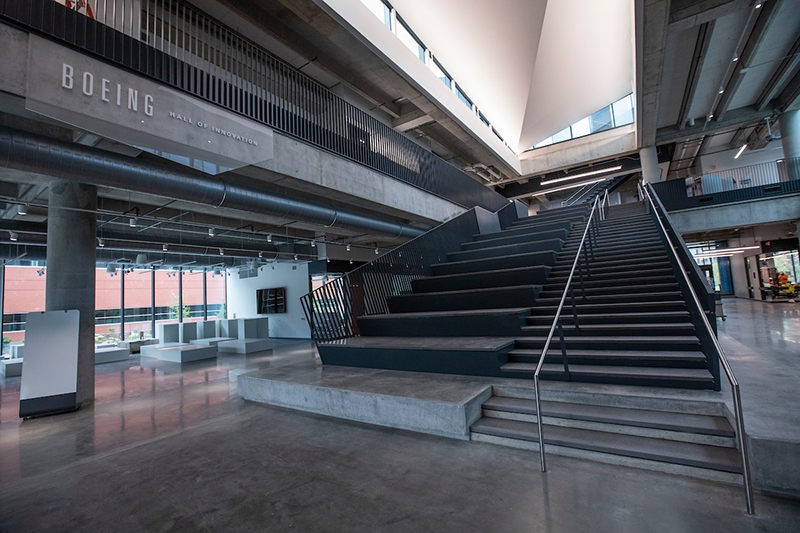 When the COVID-19 pandemic forced the Iowa State community to migrate online for the remainder of spring semester, the Student Innovation Center's April grand opening was put on the back burner.
However, construction, landscaping and equipment installation pushed forward. Today, students, faculty and staff are working to ensure the building is ready to open to campus when fall semester begins Aug. 17. Facilities planning and management announced in late June the building had received a certificate of full occupancy from the state of Iowa.
Stepping up to meet a need
To comply with physical distancing and 50% capacity requirements, a few areas of the building will not be used as intended when it opens. Two areas on the ground floor -- the exhibit and 'makerspace' areas -- will be repurposed into classrooms to help the university's room scheduling staff find instructional spaces. Machinery that was meant for the makerspace will be held in various locations on campus until it can be installed for the space's intended use.
"There is a huge crunch on campus for large gathering spaces that will accommodate social distancing," said Jim Oliver, director of the Student Innovation Center and Larry and Pam Pithan Professor of Mechanical Engineering.
Innovative classrooms -- such as the "learning-in-the-round" classroom on the third floor -- that initially were going to be assigned through a competitive application process will, for the time being, also be used as traditional classrooms.
Tenants moving in
Departments and student organizations have begun to move in to the Student Innovation Center. The ISU Gaffer's Guild successfully blew glass in its new furnaces over the weekend and staff from the apparel, events and hospitality management department are setting up and testing equipment in Sparks, the department's student-run café. Other building staff are developing traffic flow plans, adjusting furniture configurations and deploying cleaning and disinfecting supplies in all open meeting rooms for widespread use.
"In keeping with our spirit of innovation, flexibility and agility, we were pleased to respond quickly to broader needs of the university by repurposing some of our spaces -- and we are very excited to welcome students, faculty and staff to experience this unique resource next month," Oliver said.
ISU Foundation donor branding and signage throughout the building is complete, and wayfinding is nearly complete. This fall, Oliver said, environmental branding in line with the "Innovate at Iowa State" campaign will be installed.
Oliver said a rescheduled grand opening event is in the planning stages, but a date has not been set.