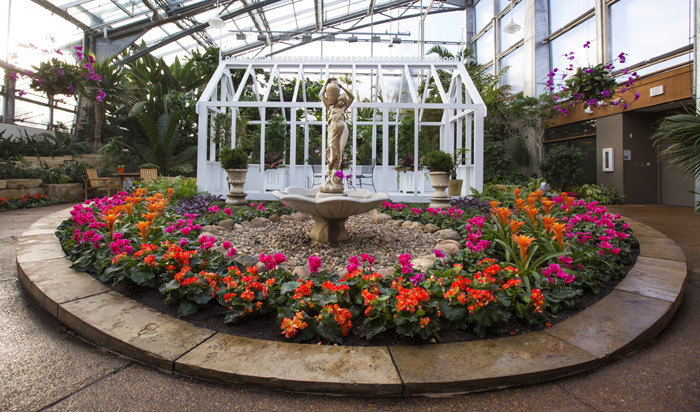 Color will permeate Reiman Gardens in 2016 with a plethora of exhibits dedicated to nature's wide range of colors. Simply titled Color, the gardens' theme launched Jan. 18 with the opening of "Orangery" (pronounced "or-RAHN-juh-rie") in the Hughes Conservatory. Descriptions of this exhibit and others follow. For a complete listing and more details, visit the Reiman Gardens website. Regular admission prices apply.
An ode to orange
While the color orange is prevalent in this exhibit, the title is a nod to 17th-century Europe's orangeries, or elaborate greenhouses, which were used to shield citrus trees from harsh winters. In addition to citrus trees and orchids, the exhibit contains a 10-by-15-foot orangery designed and built by the gardens' staff. The exhibit runs through April 17.
LEGO sculptures return
The popular "Nature Connects: Art with LEGO Bricks" exhibition, which debuted at the gardens in 2012, returns this year with 13 new, nature-inspired sculptures, again created by artist Sean Kenney. Using roughly 500,000 bricks, Kenney's works will include a herd of deer, a gardener and grandchild, a monarch butterfly, a wheelbarrow and a birdbath among other items often found in gardens. The exhibit opens April 22 and runs through Oct. 31.
Live Technicolor
"In Living Color" will feature the vibrant colors and patterns that attract insects -- and people -- to plants. The exhibit will be in the Hughes Conservatory April 22 through Aug. 21.
Tulip time
"Rainbow Connection" is a tribute to tulips from mid-April through May 9, with more than 47,000 blooms. Over 40 tulip varieties will grace the Campanile Garden, while the Herb Garden will feature an array of red and pink tulips. The Children's Garden will be blanketed with bright, bold-colored blooms, and a rainbow of tulips will greet visitors in the South Field.
Summer-into-fall displays
Several garden displays will be unveiled May 9 and continue through Oct. 15, including:
"Color and the Cottage Garden," Campanile Garden
"Let's Color!" Children's Garden
"My Colorful Plate," Home Production Garden
"FluoreSCENT," Herb Garden
"Blue Ribbon Garden," Trial Garden
"Prairie Prisms," Stafford Garden
Cyclone colors
The Hughes Conservatory will be adorned with Iowa State colors during "Cardinal and Gold," Aug. 26 through Nov. 13. The display will celebrate nature's version of Cyclone colors, using the tones of deciduous trees and plants during autumn.
Candy land
The Reiman Railroad Express will chug its way through the gardens Nov. 18 through Jan. 8, 2017, for "Sugar and Spice." The trains will make their way through a sweet landscape inspired by holiday candies and food.