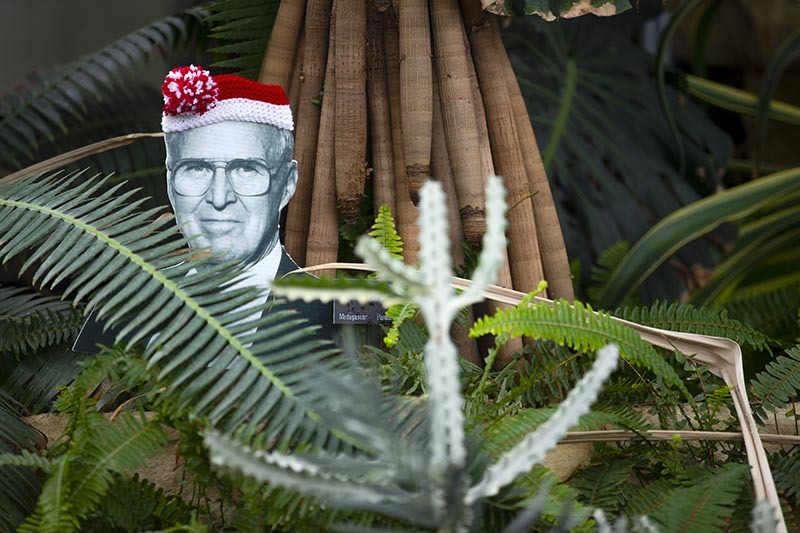 Ecology superstars are featured in the "Where's Aldo (Leopold)?" exhibit that opened Saturday in Reiman Gardens' Hughes Conservatory. Part of the gardens' yearlong Toys and Games theme, the exhibit is a play on the "Where's Waldo?" search-and-find puzzles.
Eight (nearly) life-sized busts are tucked among the tropical plants, flowering annuals and river birch trees on display in the conservatory. The black and white busts sport Waldo-like red and white striped scarves and hats knitted by gardens volunteers. The busts will be moved periodically, presenting a new search for returning visitors.
The eight ecology heroes featured in the exhibit are:
Aldo Leopold, an Iowa native and conservationist known as the father of wildlife ecology
Vandana Shiva, named a 2003 Time magazine environmental hero for promoting biodiversity in agriculture
Norman Borlaug, an Iowa native and 1970 Nobel Peace Prize winner who founded the World Food Prize
Rachel Carson, a marine biologist who authored a book about the threats of chemical exposure
John Muir, the Sierra Club founder credited with launching the national park system
Robert Bullard, an alum and environmental justice advocate for minority human populations located in polluted areas
Marjory Stoneman Douglas, a 1993 Presidential Medal of Freedom winner for her work to preserve and protect the Florida Everglades
Ed Pulaski, a U.S. Forest Service firefighter who saved nearly all of his crew during Idaho's "Great Fire of 1910"
Themed displays also are growing in the outside gardens. They include:
"Herbs and Orbs" in the herb garden, featuring orb-shaped plants
"Light Bright" in the campanile garden, featuring a grid of colorful plants with a dark backdrop
"The Five Senses" in the children's garden, featuring plants to see, touch, smell, hear and (sometimes) taste
"Fruit Ninjas" in the home production garden, highlighting the reproductive "fruit" of flowering plants