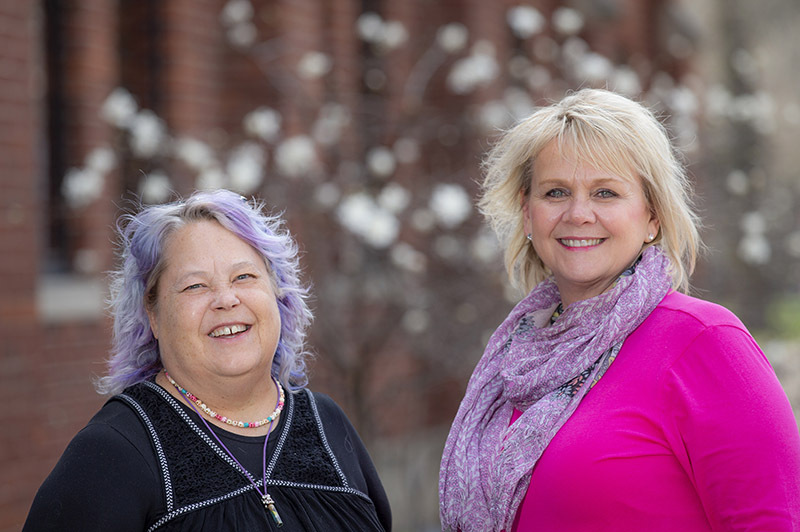 They are the helpful voices on the other end of the phone.
Whether the call comes from a freshman or tenured faculty member, when there is an issue with a leaky roof or a door that just won't lock, they pick up the phone when the "Report a Problem" 4-5100 number rings.
Cindy Stigler and Sherri Paul, clerks in the facilities planning and management (FPM) service center, work to find solutions to the issues that pop up on the Iowa State campus from one day to the next. The two have spent nearly 20 years each helping FPM employees solve problems either called in or sent through the recently established online form.
Do you answer all of the calls and emails that come into the service center?
Sherri: Cindy and I, along with three student employees, answer the phone calls. Cindy, myself, (facilities project manager) Andrew Mott and (project planning specialist) Darla Degroot have access to the email, and we respond as needed. We probably get a half dozen to a dozen emails that come in during a typical week.
What is the most frequent kind of call you get?
Cindy: Plumbing, probably. That and doors. Because we have so many more students, [doors] are getting used a lot more. Everything from broken handles or keys, broken door locks, adding sweeps at the bottom, or doors not locking and unlocking.
What is a typical day in your job?
Cindy: We come in and start pulling up a lot of screens beginning with Outlook, FAMIS -- our software for putting in maintenance requests. We open CyBox because if a fire panel goes down we put it in CyBox so the department of public safety (DPS) can see that. Anyone who goes on a roof has to call us to let us know when they are on and off a roof. Our phones are on a Cisco system, so we pull that up as well as a duplicate screen to make sure we don't have duplicate requests.
We get here fairly early (7:30 a.m. to 4 p.m.), and a lot of times someone will come in with a night call they received and get a service request started so they can go get parts. Then we spend the day answering the phones or emails, and try to get them taken care of as quickly as possible.
Who handles the calls after you leave for the day?
Cindy: A supervisor or someone they hand off the responsibility to will take calls because our phone is answered 24/7. After that, calls go to the power plant. DPS sometimes takes calls too. If you can't get hold of us, call DPS because they know how to get hold of us.
When are you typically most busy?
Cindy: When it rains or it snows or we have a seasonal change -- warm to cold or cold to warm -- we get a lot of calls. Right now we are getting calls because some buildings are getting too warm. They haven't filled the chilled water lines yet and that is what cools most of the buildings on campus. Once they make the switch for the season, we don't switch back. Of course, when we get ice and snow it can get crazy.
Sherri: There are days when you think you won't get many calls because it is a light rain, but it is an angled rain and one side of a building leaks when it comes from a certain direction.
Do you get a lot of calls that should go other places?
Sherri: We get a lot of information technology type of calls that should really be going over to the solution center. Residence hall requests we get a lot, but we only do the grounds for residence, and they have their own service center that processes (facilities) calls. We usually just transfer calls to where they need to go.
What is the most unusual call have you received?
Sherri: We had a pair of geese that nested on top of the Food Sciences Building. Once they laid their eggs, the geese would attack people on the ground.
Cindy: A lady at the Farm House was using the restroom and heard a noise. She stood up and there was a bat in the toilet.
Do things slow down when classes are not in session?
Sherri: That is one of our busiest times because that is when we can get into the classrooms and labs and make repairs and remodels.
Is there a problem you handled you are particularly proud of?
Cindy: I had a mom call me because her daughter was coming on a visit, but she had a bad allergy to pesticides. We might spray on a schedule in a building for bugs, so we worked with some people so they could hold off so this girl could be here and not be affected. I look at that as a potential Iowa State student, and we want them enjoy their time here.