The rows of new fish tanks in the basement of the Advanced Teaching and Research Building (ATRB) will boost the power of Jeffrey Essner and Maura McGrail's research. By testing in the transparent embryos of zebrafish, they aim to develop gene-editing strategies for applications to create large-animal models of human disease -- and, ultimately, gene therapy treatments for animals and humans.
"We can disrupt different genes and see how that affects organs, how they form, how blood flow happens. These are all processes disrupted in different human diseases. We're modeling what goes wrong in humans," said McGrail, an associate professor of genetics, development and cell biology.
The facility also will mean even more hands-on research and less routine labor for McGrail and Essner's undergraduate students, who maintain a system that could eventually hold about 42,000 fish.
"When they walked in to see this facility, they were just amazed," McGrail said of their student assistants. "Their eyes lit up. It was an exclamation of wonder. This is so beautiful compared to the old facility."
More fish, better data
It's a big deal for the fish, too. Automated, state-of-the-art filtration and consistent temperature and lighting are the chief technological improvements in Essner and McGrail's new lab, built last year with a grant of nearly $750,000 from the Roy J. Carver Charitable Trust. The ATRB facility, less cramped and pungent than their former lab in Science II, should lead to healthier test subjects.
"We like to keep our fish happy. They mate better," said Essner, a genetics, development and cell biology professor.
More of those happy fish is better, as well. The biggest impact of the upgrade is the increased capacity, from 1,200 tanks to 2,800. With each tank holding up to 15 zebrafish, that's an increase of about 24,000 fish. More fish means more data, which means more robust results.
"In developing new technologies for genome engineering, it really requires the ability to generate that many fish to figure out which is the most optimal approach," McGrail said.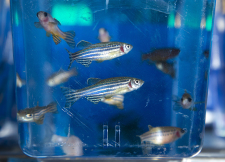 Why zebrafish?
The zebrafish -- a tropical freshwater species -- is uniquely useful in genetic research because the 400 embryos a female can produce in day are transparent and externally fertilized. That makes them easy to manipulate. They also develop quickly, growing the rudiments of all their major organs within five days and fully maturing in two months. Essner said the zebrafish has the third-best annotated genome, behind only mice and humans. About 70 percent of genes in humans and zebrafish are similar, he said.
"We consider zebrafish a less-invasive alternative vertebrate to using warm-blooded animals like mice and rats," he said.
Essner has been working with zebrafish since he was a graduate student, nearly 30 years of experience. "He's an expert not just in the science, but in the utility of the organism," McGrail said. "We are at a real advantage because of his expertise."
A research team including Essner and McGrail received a four-year National Institutes of Health (NIH) grant in 2017 worth about $3 million, and the upgraded lab will make them even more competitive for NIH grants in the future, they said. They thanked the Carver Trust for devoting the resources to their expansion and the College of Agriculture and Life Sciences for its support.
"We're grateful for the new space and support of our research program and the programs of our collaborators," Essner said. "It was a wonderful gift."