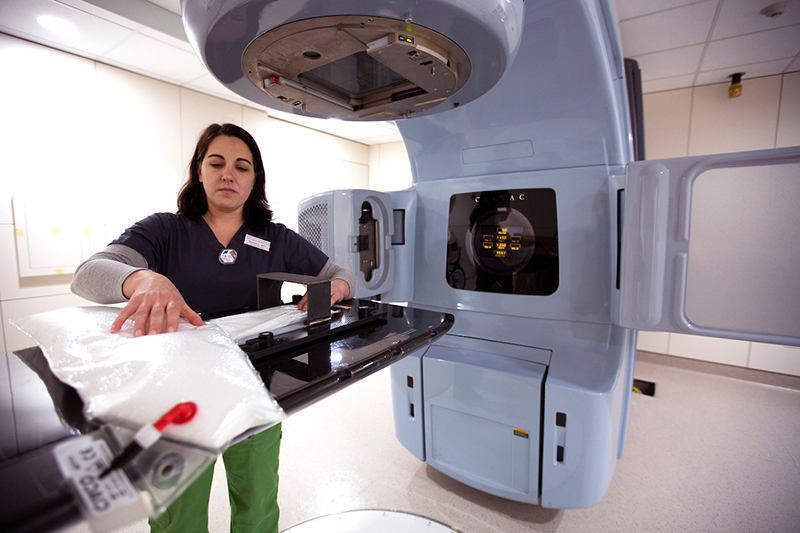 A facility addition to the Hixson-Lied Small Animal Hospital equipped to provide radiation therapy for pets with cancer opens Feb. 4 at the College of Veterinary Medicine. Construction wrapped up in late August, followed by staff training and a commissioning process for the linear accelerator, a 6-year-old model initially used in a human hospital and subsequently reconditioned for Iowa State.
More info
To learn more about the College of Veterinary Medicine's oncology radiation services, call 515-294-4900 or email oncotech@iastate.edu.
The radiation therapy room offers pet owners a treatment option scarce in the Midwest. The nearest veterinary radiation treatment facilities are at the universities of Minnesota (St. Paul), Wisconsin (Madison) and Missouri (Columbia), according to Chad Johannes, assistant professor of veterinary clinical sciences and medical oncologist. There are no veterinary radiation treatment facilities in Iowa, Nebraska or South Dakota, nor in the Kansas City metro area.
"While many clients are willing to treat their pets with radiation, there was a void in this therapy option within a three- to four-hour radius of Iowa State," Johannes said. "The logistics become especially challenging if a treatment protocol calls for 10-20 treatments over two to four weeks."
Precision doses
Even better news for pet owners is that the ISU facility features an advanced technology, stereotactic radiation therapy (SRT), which sends high-dose radiation to a small, focused area accurate within 1-3 millimeters. Johannes said for many cancers, this precision decreases the treatments needed -- from as many as 20 down to one to four -- and reduces side effects. The end result is shorter hospitalization for animals and less time away from their human families.
The nearest SRT sites, he noted, are at Colorado State University, Fort Collins; University of Wisconsin, Madison; and a private practice in Milwaukee.
"As it is with humans, radiation therapy is an integral treatment consideration for many types of cancer in pets -- dogs, cats, exotics. Having this technology available at ISU will increase access to treatment for many pets in the region," Johannes said.
Cancer treatment plans can vary as much as the animals themselves, he said. Costs could range from $1,500 for palliative care up to $8,000 for the most advanced therapy this linear accelerator offers. (Less intensive radiation options are available, too.) Despite a growth in the use of pet insurance, a majority -- about 98 percent -- of pets in the United States are not insured, Johannes said.
New staff
The college hired radiation therapist Drema Lopez from Des Moines' Mercy hospitals network to help guide the linear accelerator through its recommissioning. She has 18 years of experience in human radiation therapy.
Since August, Lopez said the small animal hospital has referred at least 15 animals to out-of-state centers for radiation therapy.
Lopez said the accelerator's table can accommodate animal patients up to 440 pounds, who are sedated and anesthetized for radiation therapy. Due to the precision required, she estimated a treatment capacity of three to eight animal patients a day. She anticipates treating numerous cancers that respond to radiation therapy, particularly brain and nasal tumors, for which surgery and chemotherapy aren't effective options.
The vault-like room has 2-foot composite walls, thickened to 4 feet opposite the beam delivery source. At a thousand pounds, even its heavy-duty door serves to contain the radiation.
The SRT facility's $3.7 million cost (including equipment and furnishings) was covered by hospital funds ($1.8 million), private gifts ($1.57 million) and a $330,000 state appropriation from Rebuild Iowa Infrastructure Funds.