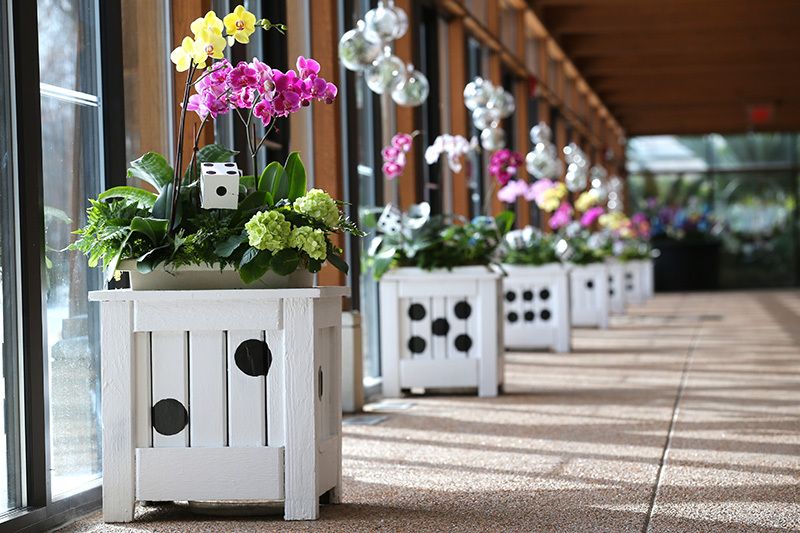 Reiman Gardens' first exhibit of 2019 opened in January in the conservatory. The tropical display kicks off the "Toys and Games" theme that will be reflected throughout the gardens this year.
Orchids and flowering plants add color to the lush green conservatory, where hints of the theme -- think playing cards and dice -- are tucked into the "The Magic Circle" display. Spring bulbs will replace the orchids in March.
Larger-than-life, interactive displays will be installed on the gardens' grounds this spring. A College of Design team led by architecture lecturer Reinaldo Correa is partnering with gardens staff to create eight oversized games, including:
"Scavenger Hunt"
"Consequence," similar to the "KerPlunk" marble game
"Photosynthesize," balance balls
"BEEd Maze"
"Morphing Morphology," like the cryptex puzzle in Dan Brown's "The Da Vinci Code"
"Cause and Effect," sliding tile puzzle
"Food Web Chess"
"Connect Food," based on "Connect Four"
Themed sculptures, designed and fabricated in house, also are part of the exhibit. They include giant dice, a Rubik's Cube-like playhouse and playing cards with photo-op face cutouts. A fourth sculpture may be added. The "Nature of the Game" outdoor display of sculptures and interactive art is scheduled to run April 27 through Oct. 6. Admission to Reiman Gardens is $9 ($8 for seniors, $4.50 for youth and free for members, ISU students and children up to 2 years old).