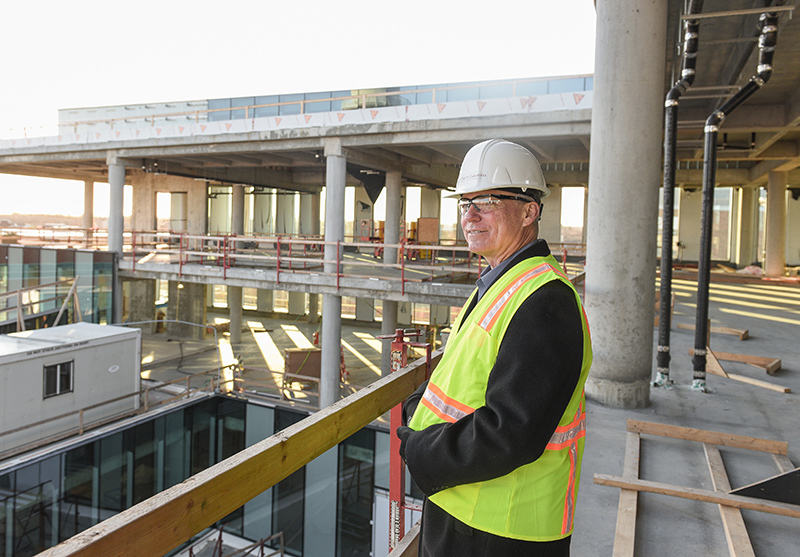 James Oliver has been named the first director of the Student Innovation Center. Oliver began the full-time appointment Jan. 1.
"Jim is a proven innovator in his teaching, research and technology transfer," said senior vice president and provost Jonathan Wickert. "He has built programs and relationships across campus -- exactly the culture that will be enhanced by the Student Innovation Center."
Oliver, University Professor and Larry and Pam Pithan Professor of Mechanical Engineering, has directed the Virtual Reality Applications Center since 2004, and the university's interdisciplinary graduate program in human computer interaction since 2003. Both programs combine faculty expertise in diverse areas such as psychology, biology, graphic design, architecture, English, computer science, music, engineering and education. Oliver also teaches a course on technology and global culture with the department of world languages and cultures.
"I look forward to the opportunity to lead this facility and the investment it represents in Iowa State's future," Oliver said. "The Student Innovation Center will foster innovation in teaching and learning, research and economic development, as well as outreach and community engagement."
Oliver earned a bachelor's degree from Union College, Schenectady, New York, and master's and doctoral degrees from Michigan State University, East Lansing, all in mechanical engineering. He held faculty roles at Michigan State and the State University of New York, Buffalo, before joining the Iowa State faculty in 1991.
In addition to his Iowa State responsibilities, Oliver cofounded BodyViz, a technology startup focused on low-cost, easy-to-use medical visualization with sales in the medical, education, veterinary and legal markets; and formerly headed product development for Engineering Animation Inc.
The Student Innovation Center, under construction on the west side of campus, will be completed in 2020. Oliver will provide overall leadership, vision and direction for the facility -- including planning and implementing academic programming -- and foster engagement among students and external stakeholders.
Related stories