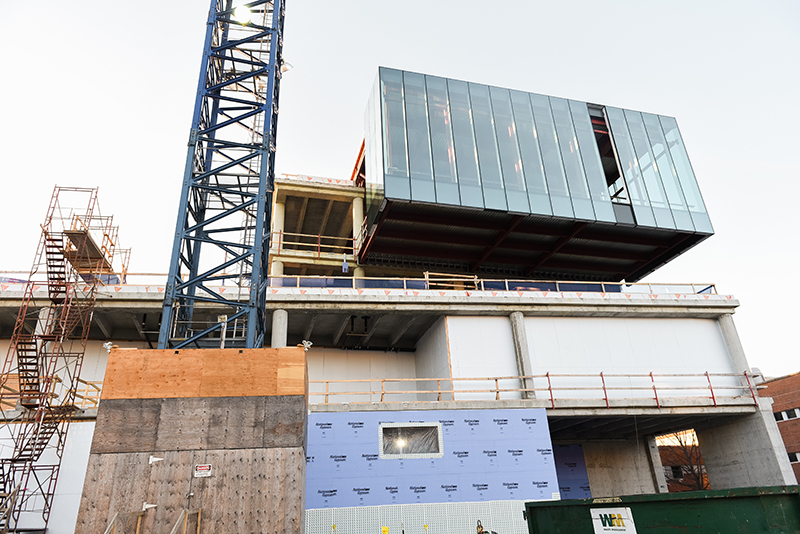 It's more than a year from being finished, a busy hard-hat zone mostly bare on the inside as its glass exterior is pieced in place, but it still was exciting for the Student Innovation Center's new director to walk through the building that will be Iowa State's crown jewel for creating.
"To physically be here is really spectacular," said James Oliver, University Professor and Larry and Pam Pithan Professor of Mechanical Engineering, who as of Jan. 1 is the center's director.
Construction manager Leroy Brown and project manager Liz Clarke took Oliver and senior vice president and provost Jonathan Wickert on a tour of the center Jan. 9, showing off the progress made on the $84 million facility scheduled to open for the spring 2020 semester.
When completed, the Student Innovation Center will be the hands-on hub for students across campus, five floors (one below ground) full of places for making, designing, interacting and learning -- classrooms, student-organization spaces and co-working suites intermingled with fabrication labs, design studios and even a demonstration kitchen.
It'll be an unprecedented facility, said Oliver, who has been involved in steering committees planning the center's many uses. "There will be nothing else like it in the U.S., I think," he said.
Construction is a bit behind but still expected to wrap up on schedule, Clarke said. Installation of the massive floor-to-ceiling windows that will account for most of the 140,000 square foot building's exterior walls should be done by March. When that work is finished, the crane that's loomed over the site for more than a year will be gone, too, Brown said.
Here's a look inside the center: