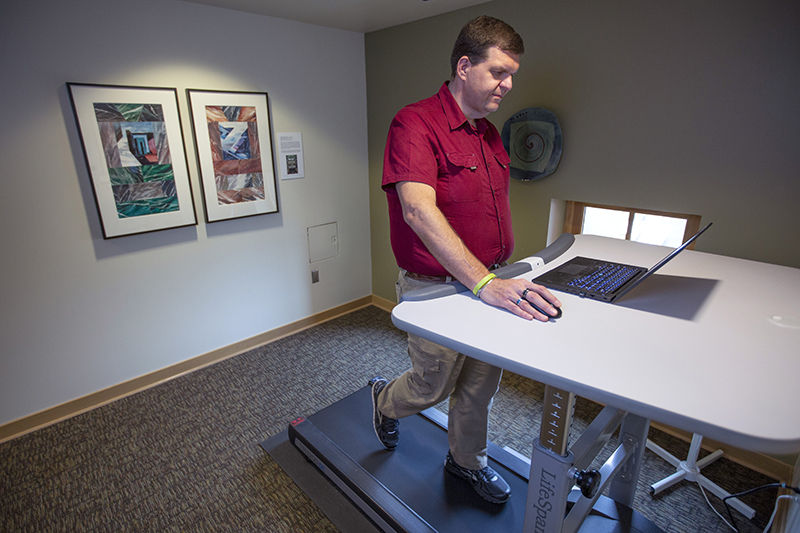 Darrin Jones was concerned last winter as he thought about getting back to work. Following a health scare, his doctor directed him to stay active throughout the day to prevent blood clots.
As a program coordinator at the Center for Excellence in Learning and Teaching (CELT), a job that keeps him at a screen most of the day, he wasn't sure how he could possibly move for 10 minutes every hour, per the doctor's orders. Would he need to tear away from work for regular walks? Was that even possible? Would he have to burn vacation time to do it?
"I was worried," Jones said. "It's something I didn't know."
Having a physical or mental health condition that could impact your job isn't uncommon. Nearly one in five Americans have a disability, according to a 2010 census estimate. If people with a disability were recognized as a minority group, it would be the largest in the U.S.
"It is much more common than people realize," said Leslie Ginder, employee leave and accommodation coordinator for university human resources (UHR).
Yet for many, there's a lingering stigma surrounding workplace accommodations employers must provide under the federal Americans with Disabilities Act (ADA).
"I think for some people, it can be very lonely and isolating," Ginder said.
In conjunction with National Disability Employment Awareness Month, annually recognized in October, and the university's Disability Awareness Week beginning later this month, here are a few things to know about workplace disability accommodations:
Is it for you?
Under the ADA, employers must make on-the-job modifications to help an employee overcome the challenges posed by a mental or physical health condition if the worker is otherwise able to perform the essential functions of the position and the accommodation is reasonable, meaning it doesn't put an undue hardship on the employer. UHR works with employee supervisors to review the essential functions of a position, and accommodations can range from relatively simple scheduling shifts to major purchases.
But what's a disability? In this context, it's an impairment that substantially limits one or more major life activities. It can come in many forms and often is not apparent, Ginder said. While some employees embrace a disability as an important part of their identity, it can be an off-putting label for others, she said.
"I try to meet the person where they are and how they want to identify," she said.
Some employees confuse an ADA disability with long-term disability status covered by insurance policies or Social Security, Ginder said. That's a different matter requiring a different assessment and more stringent requirements. Workplace disability accommodations can last for varying durations and may change as the condition or the worker's job duties change.
How does it start?
An accommodation starts with a discussion with Ginder, who oversees the university's workplace accommodations. Ginder said the initial conversation with her may identify issues the employee hadn't considered.
"I'm happy to talk," Ginder said.
Ginder's position is relatively new, established in 2016. Before that, accommodation requests were handled by HR consultants within UHR, in addition to other work responsibilities. On average, she said, she meets with an employee or their department two or three times a day to discuss an accommodation.
"I think it really shows the university is committed to employees who may be in need or workplace accommodations," Ginder said of having a UHR position devoted to accommodations.
To move forward with a request after the need for an accommodation has been identified, an employee fills out a form, and the employee's medical provider documents the health condition in a different form provided to UHR. The employee request form, which the worker's supervisor will see, asks about the nature, impact and duration of the limitations but doesn't require the explicit disclosure of a medical diagnosis. That allows employees to keep their medical information confidential, even from their supervisor.
"It's an employee's decision on how, when and what to share about their medical diagnosis with other individuals they work with," Ginder said.
Ginder also works with supervisors on how to address questions from other workers while still respecting their employees' privacy by not disclosing the existence of accommodations. She said one example of how to handle those questions is by saying: "We make decisions about employees on an individual basis based on what our workplace needs are."
What will it be?
The ADA describes selecting a disability accommodation as an "interactive process," as each situation is different and may need some continuous experimentation and adjustment over time to solve.
"Accommodations don't necessarily come in one package, like you have this health condition and here are accommodations you can pick from. It's very individualized," she said. "Ultimately, we're trying to find an accommodation that's effective and reasonable."
Ginder coordinates with health care providers, unit-level human resources staff, supervisors and employees as they consider potential solutions.
"I'm kind of that filter that helps work through that conversation," she said.
For accommodation ideas, Ginder said she sometimes consults the Job Accommodation Network website, which has a database of possible accommodations. Often, an accommodation is put in place first on a trial basis, she said.
Sometimes an accommodation can mean a small change in work hours, such as a later start time, more defined breaks or a longer lunch period. It may involve changing a workspace or purchasing special equipment or software, though Ginder said most accommodations cost less than $500.
Jones said the cost was one of his worries when he began exploring ways to keep moving throughout the day despite his desk job at CELT. But after meeting with Ginder -- and, at his choice, his supervisor -- they identified options, including a treadmill desk CELT already had on hand. He said the process was straightforward and urged anyone with a medical condition affecting their job to contact UHR.
"The university does take care of its employees. Don't just assume that they won't. That's the thing I'd want people to know. Don't just carry on thinking I'm not going to be taken care of," he said.