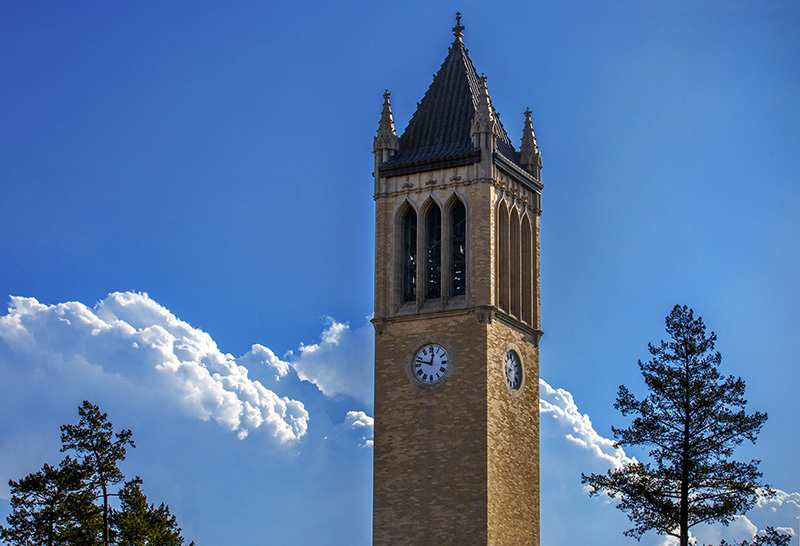 Maintenance and construction within the campanile kept things quiet last summer, but the bells will ring when the music department's summer carillon concert series returns next week. The free monthly performances begin at 7 p.m., always on a Tuesday.
Organized by Iowa State carillonneur and Cownie Professor of Music Tin-Shi Tam, the concert series features visiting university carillonneurs. Clemson University's Linda Dzuris kicks off the series on Tuesday, May 29. This year's schedule includes a performance that coincides with RAGBRAI's July 24 stop in Ames.
"Iowa State has a lot to offer when RAGBRAI comes to Ames," Tam said. "The carillon concert is one way to welcome visitors to our beautiful campus and to share our beloved tradition."
Spectators can find a program of music selections online for each performance. Blankets and chairs are welcome on central campus. Tours of the campanile -- a trip that takes visitors up 79 stair steps -- will be conducted after the performances.
Concert schedule
May 29: Linda Dzuris, Clemson University, South Carolina
June 26: Mark Konewko, Marquette University, Milwaukee
July 24: Ray McLellan, Michigan State University, Lansing
Aug. 28: Ellen Dickinson, Trinity College, Hartford, Connecticut