Thousands of bike riders, support vehicles and revelers are expected to roll into town on Tuesday, July 24, when RAGBRAI returns to Ames. The (Des Moines) Register's Annual Great Bicycle Ride Across Iowa, now in its 46th year, will send riders on a weeklong, 428-mile route across the central portion of the state, making Ames its day three final destination. This marks the fourth time Ames will serve as an overnight stop, the last in 2008.
Although Ames is the host city, Iowa State will play a prominent role in the experience. Sporting cardinal and gold colors and a "Cycling Power: Taking the State by Storm" theme, an Ames RAGBRAI welcome area will be staged north of Jack Trice Stadium. Planners anticipate the biggest surge of arrivals between noon and 4 p.m.
The route
Riders will travel from Jefferson to Ames that day, a 64-mile stretch. The route brings them into town from the south, up county road R38 (South Dakota Avenue), east on Mortensen Road, north on Beach Avenue, to the welcome area along South Fourth Street. Traffic closures and delays are expected along the route and its intersection with State Avenue.
On Wednesday, July 25, riders head east on the next leg of their journey via South 16th Street, north on Dayton Avenue, and east on Lincoln Way. Traffic closures and delays are expected along the route and its intersection with South Duff Avenue.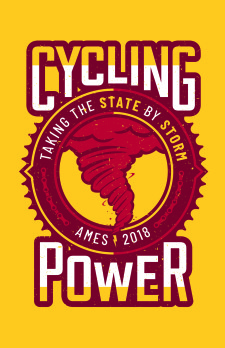 Designated areas
Official RAGBRAI camping areas will be located in the city's Brookside and Stuart Smith parks, and the grass recreation fields east of the football stadium. Support vehicles, including RVs, will be assigned to the Iowa State Center parking lots. Entertainment -- a concert, food vendors, beverage garden and more -- will be downtown on Main Street. The welcome area near the stadium is expected to close at 6 p.m.
A call for volunteers
Ames Convention and Visitors Bureau staff are coordinating with an advisory committee and several subcommittees. Alumni association president and CEO Jeff Johnson and Kelsey Bolte Carper, an Ames real estate agent, business owner and former Cyclone women's basketball player, are serving as the Ames RAGBRAI co-chairs.
At an April 25 announcement party, the co-chairs urged community members to get involved.
"We want it to be a community rally, a community event," Carper said.
Johnson said part of the welcome efforts include crowds along Beach Avenue and South Fourth Street, cheering riders as they arrive at the welcome area.
"We will create our first-ever human wind tunnel," he said. "We want to give a warm welcome to our riders as they come into our city. More importantly, we want to showcase how Ames and Iowa State share a true town and gown partnership."
Anyone interested in volunteering for the event can contact the ACVB by email (amesragbrai@amescvb.com) or phone (232-4032). Opportunities such as route guides, campground supervisors and other support roles will be offered through the Volunteer Center of Story County website.