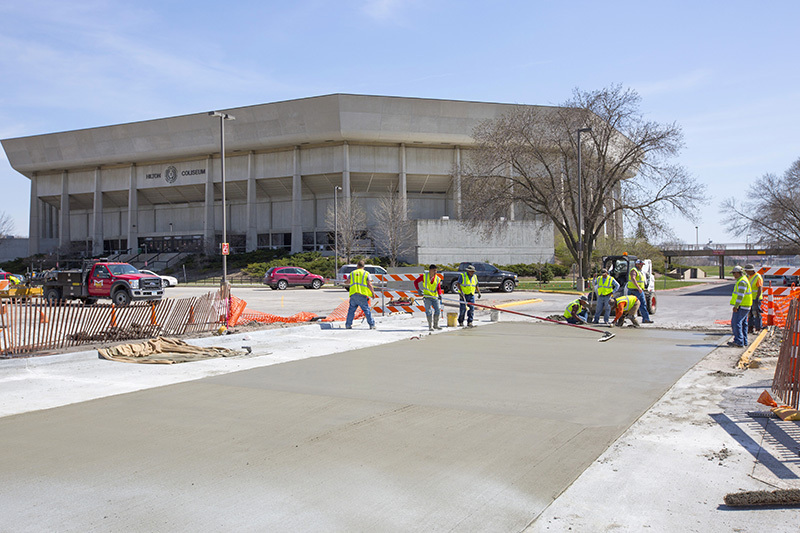 Visitors to Hilton Coliseum for commencement this weekend may notice the beginnings of a project to revamp the arena's parking and sidewalks, nearly doubling the vehicle capacity in its closest lots while adding measures to reduce congestion and increase pedestrian safety.
The $3.9 million project includes a new driveway north of Hilton connecting to Lincoln Way, which should help with postgame traffic gridlock. The driveway extends from the road between the Scheman Building and Hilton. The median on Lincoln Way will remain, limiting driveway access to vehicles entering from the west and exiting east. The driveway will be available only for games and other Iowa State Center events.
"We'll decide on a case-by-case basis whether it's open and how we staff it," said Chris Jorgensen, senior associate athletics director for operations. For the first year, at least, staff will be stationed at the driveway on game days, he said.
Expanded parking
The project will add 282 parking spots in lots C1 and C2, north and south of Hilton. They previously held 310 vehicles. The lot sizes will expand slightly, mostly to the north toward Lincoln Way, Jorgensen said. More efficient use of space allows increased capacity without significantly larger lots, he said.
Jorgensen said more parking is needed near Hilton because of the growing number of top-level donors. Parking close to the arena in the winter is highly valued, he said.
"We're just trying to be proactive. We're very fortunate to have a loyal fan base," he said.
Operations plans aren't set yet, including whether the new driveway will be restricted to vehicles parking in C1 or C2, Jorgensen said. "I'm sure it will be a work in progress as we see how traffic flows after the first few events," he said.
Other benefits
The project also will add pedestrian paths north and south of the arena, Jorgensen said. The new walkways are based in part on observations of how crowds navigate the area on foot and are meant to make walking to and from Hilton safer, he said.
"That, to me, is going to be just as important a benefit from this project as the increase in parking stalls," Jorgensen said.
The two lots and surrounding access roads will be rebuilt as part of the project. It will also provide dedicated parking for a visiting team bus and television crews, and improve accessibility, stormwater drainage, lighting and landscaping. The state Board of Regents approved the project in January. It is funded by athletics department revenue.
Still accessible
Lots C1 and C2 will be open for commencement, but work will start shortly after on C1 north of the arena and the access road on the west side. Hilton will be accessible for events throughout the summer. The contractor is required to finish the work by the end of August, before the first home football game Sept. 1.