An estimated 5,047 students are completing degrees this semester and many of them will participate in graduation festivities May 3-5. The number of anticipated graduates is fewer than 50 off last spring's record-setting class and reflects a decade of high enrollments (2007-16).
President Wendy Wintersteen will provide opening remarks at all four ceremonies. Tickets are not required for any of the commencement events. All four ceremonies will be livestreamed for those unable to attend in person.
Undergraduate students
An estimated 4,255 undergraduates are completing degrees this month. Following a two-year experiment outside in Jack Trice Stadium, undergraduate commencement will return to Hilton Coliseum and split into two Saturday events. A ceremony for students in the colleges of Agriculture and Life Sciences, Business, and Liberal Arts and Sciences will begin at 10 a.m. A ceremony for undergraduates in the colleges of Design, Engineering and Human Sciences will begin at 2:30 p.m.
Graduate students
The Graduate College ceremony remains in its Thursday evening slot, when an estimated 132 doctoral and 516 master's students will be honored. The ceremony begins at 7 p.m., also in Hilton Coliseum.
Alicia Carriquiry, Distinguished Professor of Liberal Arts and Sciences and President's Chair in Statistics, will address the graduates. Carriquiry also serves as director of the Center for Statistics and Applications in Forensic Evidence, based at Iowa State; and the Midwest Forensics Resource Center. She joined the Iowa State faculty in 1990. She is a member of the National Academy of Medicine for her work in measuring nutrient intake and a fellow of the American Statistical Association.
DVM students
An anticipated 144 students will receive their Doctor of Veterinary Medicine degrees during the College of Veterinary Medicine's ceremony at 12:30 p.m. Saturday in Stephens Auditorium.
Dr. Cate Dewey, professor of swine health management and epidemiology at the Ontario Veterinary College, University of Guelph, Ontario, Canada, will be the featured speaker. Dewey was a faculty member at the University of Nebraska (1992-95) and has worked in private veterinary practice.
The DVM graduating class includes several dozen Nebraska residents who spend the last two years of their program at Iowa State.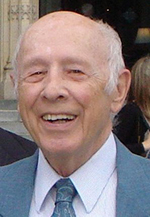 Honorary degree recipients
The university will convey two honorary degrees Saturday to Iowa natives in recognition of their professional achievements. Alumnus Dwight Ink, Leesburg, Virginia, holder of the first government degree (1947) from Iowa State, federal civil servant and adviser to seven U.S. presidents -- Eisenhower to Reagan -- will receive an honorary Doctor of Humane Letters in absentia during the morning undergraduate ceremony.
According to nomination documents, Ink possesses an unusual combination of management savvy, determination and willingness to take risks, and successfully attacked government waste and corruption. His public papers are in the special collections department in Parks Library.
Faculty members from the political science department nominated Ink for the honorary degree. University Professor and department chair Mack Shelley will accept the award on his behalf and give brief remarks.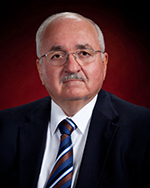 During the afternoon undergraduate ceremony, Jon Kinzenbaw of Williamsburg, inventor, entrepreneur and CEO of Kinze Manufacturing, will receive an honorary Doctor of Science and give brief remarks.
In 1965, with a $3,600 loan, Kinzenbaw purchased some tools and made the down payment on a small building in Ladora, where he opened Kinze welding. Over the next 50 years, the mechanic-welder-fabricator-business leader brought innovative technologies and mechanization to production agriculture, all while continuing to farm himself. Kinzenbaw holds 37 patents, the most recent issued last year. Kinze has facilities in Williamsburg and Vilnius, Lithuania.
Faculty members in the agricultural and biosystems engineering department nominated Kinzenbaw for the honorary degree.
Other graduation events
The Lavender Graduation ceremony, honoring graduating members of Iowa State's lesbian, gay, bisexual, transgender, queer, intersex, asexual and ally community, will be held from 3 to 5 p.m. Thursday in the East State Gym.
Colleges will honor their graduates at convocations Friday and Saturday. Four colleges -- Agriculture and Life Sciences, Business, Human Sciences, and Liberal Arts and Sciences -- will hold their events Friday in Hilton at three-hour intervals. The College of Design will use Stephens Auditorium Saturday morning (9-11 a.m.), and the College of Engineering, which prefers to recognize its students at department-level receptions, will continue this tradition Saturday morning.
Related story