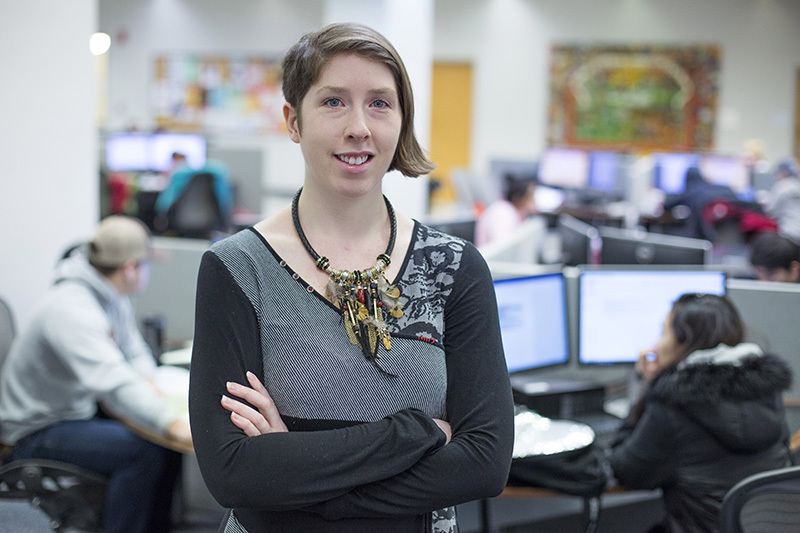 Taking a break from a day of studying spreadsheets, Erin Thomas recently spoke with Inside Iowa State about the life of a liaison librarian -- a group of 15 in the library's research and instruction services department who serve as subject-matter experts for finding information in specific fields. Each academic department has a liaison at Parks Library who can help faculty and students find what they need.
The basics
Name: Erin Thomas
Position: Liaison librarian
Time at ISU: 2.5 years
Education: Bachelor's in linguistics and master's in library and information science, University of Wisconsin, Madison
What does a liaison librarian do compared to the perception of what a librarian does?
The perception I had of a librarian growing up was the person behind the counter who would tell you to shush and would help you find books. That was all I knew about what they did until I went to library school. Then I found out there were all these cool, fantastic things that academic librarians -- and subject liaison librarians, especially -- do that I found really fascinating. There are some days when I'm teaching. There are some days when I'm selecting materials to add to the library's collection. There are other days where I'm selecting things to withdraw from the collection. I do tours. I do seminars. I do all kinds of stuff.
You are the liaison to the materials science and engineering and mechanical engineering departments. Does that involve working with faculty and researchers, or more with students?
It depends a lot on which departments and areas you're working with. I don't tend to work a lot with faculty in some of my departments. A lot of times, they're doing research with industry. They aren't able to disclose what they're working on. So they direct me to their students, to teach their students how to do good research, or they send the students in their labs to me to be trained on the library side of the research process. In other disciplines, there are liaison librarians that work very closely with faculty on their research. If I'm working with faculty, it's usually to develop online modules or in-class, in-person instruction sections I'll deliver to their students. I often start my presentations for students by saying I'm not an engineer. I'm not an expert in engineering. What I am an expert in is finding information, particularly engineering-related information -- things like standards, patents, handbooks, conference papers, all the things they'll be looking for.
You're an expert in standards. What are standards? It seems like they're pretty important.
You see the effects of having standards everywhere, but a lot of people are unaware that they even exist. They're agreed-upon ways of doing certain things or making certain products. They'll be very specific about how that product should perform or what its specifications should be. They're the reason you can go to the store and buy any brand of lightbulb, and it'll fit in your lamp. It's a little-known fact that we do have a standards collection in the library. We have a standards center hidden on the first floor of the library where you can go and use any of our industry standards that we have. It's hard to sum it up because there are so many things in there. The one I take with me when I'm teaching engineering students about standards for the first time is a joke standard that was released in the 1970s, which is the standards and specifications for a dry martini. The students get a kick out of that.
The spreadsheets you're studying – what are you looking at?
When we're asked to assess various aspects of the collection for different reasons, we'll get data to help us make decisions about what to keep, what to move to the storage building. My goal always is to make things more accessible and increase what we can offer to our faculty and students. I know it seems like we have this gigantic building when you first walk in. But there's never enough space for all of the stuff that is being added to the collection each year. Not everything is available online, though some of us might wish it was. Sometimes things do get added to online collections we have, and we go back to assess whether we still need these old print copies or not. Sometimes we do. Sometimes they have images in them that were not captured very well when they were scanned to put online. Sometimes the online versions might not include advertisements, which might be important for people who are studying that. Sometimes we'll look at how many other libraries in the world have a print copy of this particular book or journal at this point. If there's not very many, we might hang on to ours to make sure there's still going to be access.
What is something faculty and staff don't know about the library that you'd like them to know?
Probably the biggest one is that they have a liaison librarian for their department. I talk to too many faculty members who have no idea there is such a thing. We can provide a lot of resources for them and their students.