Cyclone Cinema's spring semester film series opens next week with the espionage comedy, "Kingsman: The Golden Circle," a sequel to the 2015 launch. Through the last week of class, the series will feature 13 additional recently released films, two showings per night, Thursday through Sunday, in 101 Carver.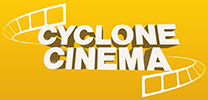 Hosted by the Student Union Board, admission to Cyclone Cinema is free and the public is welcome. Candy, bottled soda and water, and popcorn are sold for $1-$2.
Sunday captions
Cyclone Cinema's Sunday screenings include captions. To see captions at other screenings, ask one of the student volunteers before the movie begins.
Spring semester lineup
Jan. 11-14, "Kingsman: The Golden Circle" (rated R), starring Taron Egerton and Julianne Moore
Jan. 18-21, "Battle of the Sexes" (PG-13), Emma Stone and Steve Carell
Jan. 25-28, "Murder on the Orient Express" (PG-13), Kenneth Branagh and Penelope Cruz
Feb. 1-4, "Only the Brave" (PG-13), Josh Brolin and Miles Teller
Feb. 8-11, "All the Money in the World" (R), Michelle Williams and Mark Wahlberg
Feb. 15-18, "Justice League" (PG-13), Ben Affleck and Gal Gadot
Feb. 22-25, "Thor: Ragnarok" (PG-13), Chris Hemsworth and Cate Blanchett
March 1-4, "The Greatest Showman" (PG), Hugh Jackman and Zac Efron
March 8-9, "The Post" (PG-13), Meryl Streep and Tom Hanks
Spring break
March 22-25, "Jumanji: Welcome to the Jungle" (PG-13), Dwayne Johnson and Kevin Hart
March 29-April 1, "Father Figures" (R), Owen Wilson and J.K. Simmons
April 5-8, "Coco," animated (PG), voices of Anthony Gonzalez and Gael Garcia Bernal
April 12-15, "Star Wars, The Last Jedi" (PG-13), Daisy Ridley and Mark Hamill
April 19-22, "Molly's Game" (R), Jessica Chastain and Idris Elba